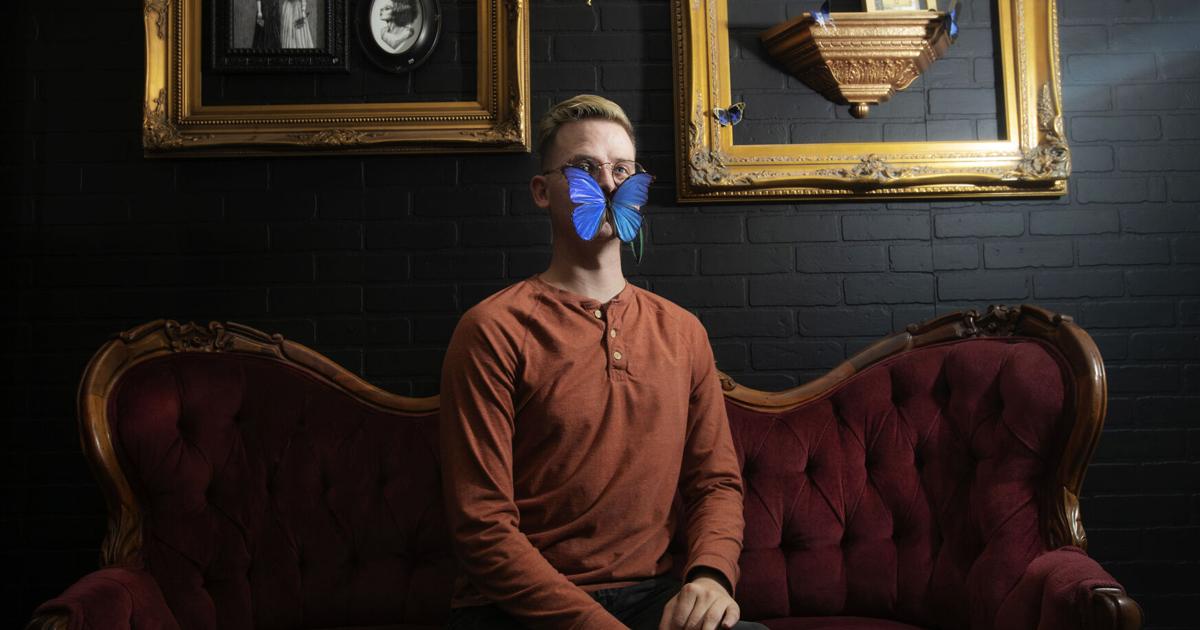 A new curiosity shop in Colorado Springs shows the beauty of dead butterflies | Arts & Entertainment
The sight of dead things usually doesn't bring a love song to mind.
Walking into this new downtown Colorado Springs shop, there's a black Christmas tree covered with skeleton ornaments in the corner. Framed and unmoving insects hang on the walls alongside paintings inspired by horror movies.
It's the owners, two bearded guys sometimes dapperly dressed up in flowery button down shirts, vests and ties, who make you want to play a Kacey Musgraves tune called "Butterflies."
Maybe it's because of all the butterfly artwork around the shop, but it's also these lyrics: "And out of the blue, I fell for you."
That's how their love story unfolded.
Andrew Cronk and Chris Dantzler met on Sept. 14, 2020, for a lunch date. A month later on a Halloween trip to Salem, Mass., Cronk asked Dantzler to be his partner. By April, they had bought a house together in Monument. With so much going on, they forgot about a shared goal that came up earlier on in their whirlwind romance: Opening a store together.
For Cronk, the dream started as a child.
"Every kid has a bug phase," Cronk, a Colorado Springs native, said. "I never left the bug phase."
His bug phase slowly crawled into a career managing a local garden center and making art inspired by his love for nature.
Cronk found a knack for preserving critters and turning them into art, by carefully pinning them against a backdrop and adding Tarot cards or splashes of paint and frames. Of all the insects, butterflies are his favorite.
While working at Phelan Gardens for the last 11 years and as his art sales took off, Cronk thought about one day opening his own shop.
When Dantzler entered the picture, he already had an affinity for butterflies. It goes back to the death of his grandmother in 2005. Every time Dantzler went to drive somewhere that summer, he was greeted by a butterfly perched on his driver's side mirror.
"I always associated the butterfly with her watching over me," Dantzler said. "They've always been near and dear to me."
Then he met a man who strived to keep the butterfly's beauty alive. And who happened to give him butterflies (you know, the other kind).
Dantzler, who has a tech and business background, saw big potential in his partner's creations.
"I've seen people pin butterflies left and right, but nowhere near to the quality that he does," Dantzler, 35, said. "I see his talent and his artistry and I'm like, 'Cool. I'm going to push this guy to his limits.'"
As Musgraves sings in "Butterflies," sometimes it takes one person to bring you out of your chrysalis.
As for Cronk, "one day" turned into "let's do this."
"It was always an idea, a dream of mine," Cronk, 29, said. "Then I met this guy. And he gave me that push to do it.
Around the one-year mark of when they met, the pair found themselves renovating a storefront near The Old Depot on Sierra Madre Street. Their store, called Cronk Art & Curiosities, opened Sept. 30.
Maybe it's a little weird to move so fast. But Cronk and Dantzler say they've always been a little weird.
Their shop shows that off before you even walk in the door. A sign outside reads, "Don't you deserve something weird?"
Inside is an array of oddities, such as moth earrings, necklaces made out of pocket knives and spooky socks.
And there's Cronk's framed artwork. A big bright blue butterfly against a white backdrop. A smaller red butterfly creeping the corner of a frame with vintage black-and-white Tarot cards in the center. Two swallowtails, a golden one and black one, pinned so their black wings carefully overlap.
You can often find Cronk behind the counter with a case of deceased butterflies and moths, as he carefully works on the painstaking pinning process. The butterflies are so perfectly preserved that customers ask if Cronk painted them.
When he explains that they're real insects, he gets to dive into one of his favorite conversation topics.
"It opens people's eyes to conservation," Cronk said. "That's really important to me. You talk about your process and people think, 'Maybe I should be more mindful about the natural world around me.'"
It seems Colorado Springs has an appetite for such things. A shop with similar vibes, called Novis Mortem Collective, opened in 2020 in hopes of "bringing a little bit of weird" to downtown Colorado Springs.
The shop on East Bijou Street has partnered with Cronk Art & Curiosities and Phelan Gardens to support the Southern Colorado Pollinator Paradise, a 4,000 square-foot pollinator habitat being constructed in Colorado Springs.
"If you think the art is cool, hopefully you'd want to protect that thing," Cronk said.
Plenty of other fun conversations happen at the shop, prompted by all kinds of weird items.
"Our goal is to have things you're not going to find everywhere," Dantzler said. "It's a safe place for the weirdos."