Designer bags as status symbols — Shopping for Happiness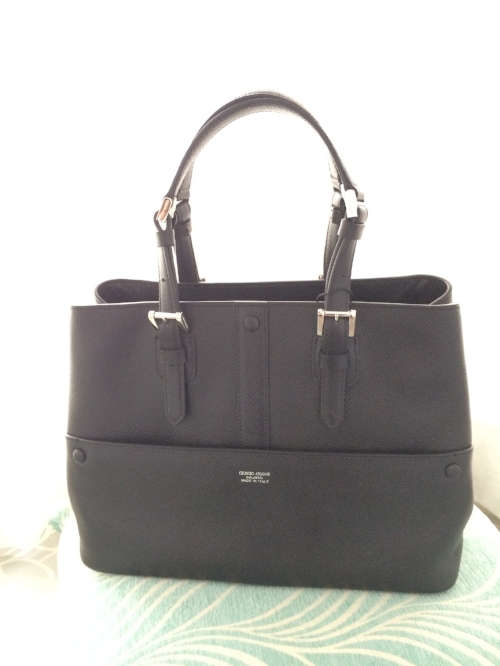 I confess, I bought a really expensive, really beautiful purse, the kind of handbag I never thought I'd own, the essence of a Shopping for Happiness purchase, and I didn't write about it.
At first I didn't write because I was more excited about the other thing I'd bought the same day – my pinstriped jumpsuit of delight. And I also didn't write because I'd actually jumped the gun on the following month's spending allotment – which is to say, I spent two months Shopping for Happiness money in ONE NIGHT. (Who or what have I become?!)  
I was pretty freaked out about this and I coped by deciding I wouldn't use the purse until the following month, when I could legitimately have bought it under my program. (I didn't wait to buy it in the first place because it was 50% off and the only one of its kind. Again, there's a lot to unpack in that get-in-now sale mentality but this is not that story.) 
When I spent my budget early, I worried that I would re-spend the money the following month —  but I didn't. Discipline + guilt go a long way. So, here it is: my Giorgio Armani bag.
It's small, open at the top, and hard-sided – the opposite of the frankly sloppy oversized shoulder bags my mom typically carried. Those bags were stuffed with everything – receipts, earrings, loose bills, lipstick, reading glasses, medication, mail, pens, lots and lots of tissues.
I miss my mom's bags! I really wanted to keep the last one when I was cleaning out her house but I was keeping so much and it had icky medical papers, etc. in it… so I didn't. (Pause for brief weeping session. And…we're back.)  
This purse will need years of use before it has as much personality as my mother's shoulder bags. I can't imagine my own kids reading much into it at this point as I'm still awfully "precious" about what I put in it. It's gorgeous and exactly to my taste, but right now, I still feel a little self-conscious and conspicuously aspirational when I carry it. It's almost as if…
…I bought a designer handbag as a status symbol.  
Me? Never! (Ha! Make that another high horse I've fallen off this year.) Can anyone relate?
And doesn't it take you back in time to remember your mother's handbags? 
For a moving article on the evocative nature of a mother's purse, check out this New York Times article by Mara Wilson, "My Mother's Last Receipt."  Thanks for reading!