Fall 2022 fashion trends: The styles to look out for next season
Wondering what the big Fall 2022 fashion trends will be? While it may be bikini weather right now, fashion insiders are already looking forward to next season with the best pieces traditionally arriving as early as July.
After two years of uncertainty, it's safe to say that designers are once again embracing their creativity and the key fashion trends 2022 demonstrate this to the max. From head to toe looks in sequins and leather as well as statement coats, maximalists are well catered for for Fall 2022, but that doesn't mean that pared back style is going anywhere – and those wanting to simply bolster their capsule wardrobe will find key pieces in the form of leather trousers, cozy knits and the best blazers aplenty in new season edits.
Fall and winter fashion trends are the ones that true fashion fans get excited about – with a definite back-to-school feel, this is an opportunity for a fresh fashion start. Notebooks at the ready, Paula Moore, fashion director at woman&home has this advice:
"It's easy to get excited about the new season but when it comes to investing in style to update your wardrobe, think about what trends will suit you and work with your existing wardrobe rather than plunging in head first! 
"If you really love a trend but don't think it'll work for you, don't be afraid to experiment with tweaks such as the length of an item's hem or sleeves or drawing in the waist with a well placed belt in order to make it work for you. 
"And finally, have fun! Fashion is supposed to be joyous and at last we can dress up in our favorite outfits with somewhere to go other than the living room!"
Fall 2022 fashion trends to embrace in the coming months
1. Sequins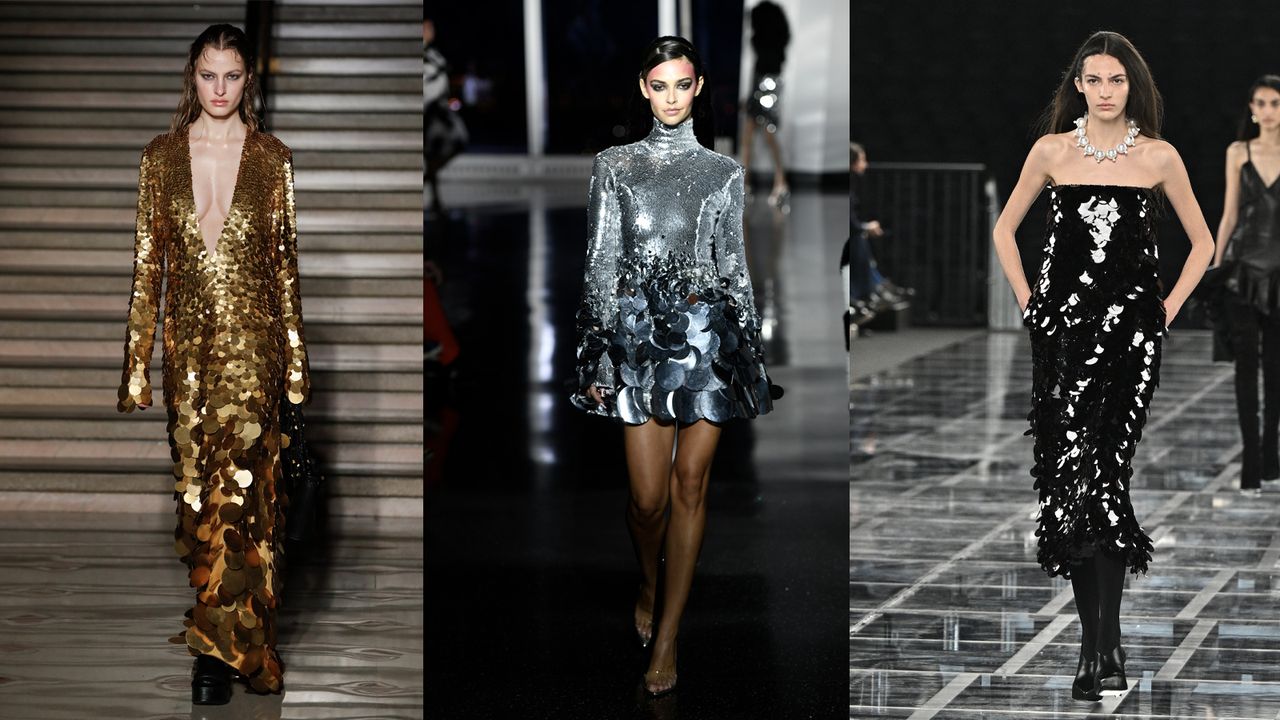 If you thought sequins were just for Christmas, think again – shiny paillettes are back and they're everywhere, literally. The AW 2022 fashion trends emerging from the runways saw Bottega Venetta, Altuzarra and Carolina Herrara showcase high shine looks that featured head to toe sequins. From oversized mermaid-like scales at Altuzarra to metallic brights, this isn't a trend for shrinking violets – more is definitely more!
Farrah-May Archer, Styling Team Lead at Stitch Fix UK (opens in new tab) comments, "The ultimate celebration of glitz and glamour, sequin pieces are a great way to get playful with your styling.
"The request I see repeatedly from my Stitch Fix customers is the preference for bold and daring items to add to their closet. Everybody looks sensational in sequins, so my go-to for those who want to make a statement are items from British clothing brands such as Whistles, who offer a range of contemporary styles – from bold to minimal. 
"We often think that sequinned items are those that are found in the back of the closet and saved exclusively for your office Christmas party. In fact, I think quite the opposite. My favorite way is to wear sequins more subtly, as a glint of glitter in any daytime look. The best way to easily achieve this is to opt for accessories with some sequin detail, whether that be embellishment detail on trainers or carrying a sequin adorned crossbody bag.
"A sequin item itself is a statement, so I suggest choosing a bold and bright short sequin dress, perfect for occasion wear. Otherwise opt for a sleek sequin top, that can be paired effortlessly with a denim jean or colorful skirt, and shoe of choice, for a subtler take on the trend."
WHAT TO BUY
Sequin dress: Once the preserve of December's party season, sequins are now very much a year round affair. Opt for light-hued disc styles and don't be afraid to experiment with dressing down your glittering gown, learn how to style a denim jacket with a party dress and add the best white trainers to finish the look, giving extra versatility to these items.
Sequin skirt: An A-line sequin skirt is a great year-round addition to your wardrobe, particularly when it comes to those tricky what-to-wear moments for last minute parties. Team with a silky camisole or your best cashmere sweater plus kitten heels for laidback glamour.
Sequin accessories: If you just want to add just a touch of sparkle, try finishing your outfit with a sequinned accessory or two. A shimmering handbag – such as the best crossbody bag or glitzy shoes will lift even the simplest of outfits, adding a wink of glitter.
2. SPORTS LUXE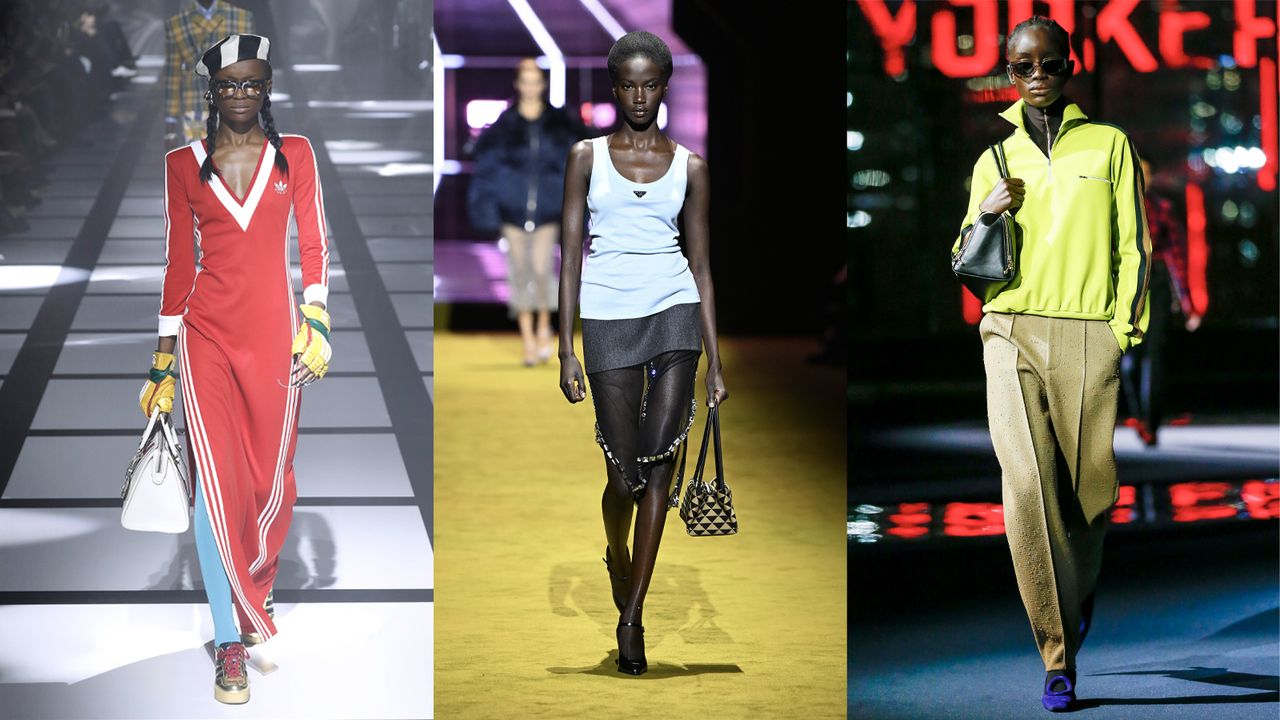 While it may have felt like fashion stopped for two years, our time away from getting dressed up has impacted on tastes in more ways than one. The best joggers, once reserved for working out or sofa surfing, are now a firm wardrobe favorite for many of us and designers are listening. The return of Sports Luxe as part of the key Fall 2022 fashion trends could be seen on the runways of Italian clothing brand Prada and American clothing brand Tory Burch in the form of shell jackets, joggers and sporty singlet vests plus bowling bag shaped top handle leather bags – look out for these as part of the handbag trends 2022 as we head into the autumn/winter season. A highlight of the February shows, the long-awaited collaboration between Gucci and Adidas was finally revealed, featuring nostalgic designs with a contemporary twist on the sport brand's iconic triple stripe motif. 
WHAT TO BUY
Track jacket: Forget fleeces and your best gilets, this season is all about the grown-up track jacket. Inspired by seventies sports stars, look for colored piping details, logos and knitted fabrics for a nod to bygone days.
Side stripes: Whether they appear down the leg of a trouser, the sleeve of a jacket or the neckline of a dress, striped detailing is a great way to give a subtle nod to the sports luxe trend. 
Luxe trackpants: When it comes to this season's trackpant update, Paula says: "swap your favorite cotton blends for silk or twill updates. Wear with your best designer heels to take the look from track-side to trend."
3. SHADES OF CARAMEL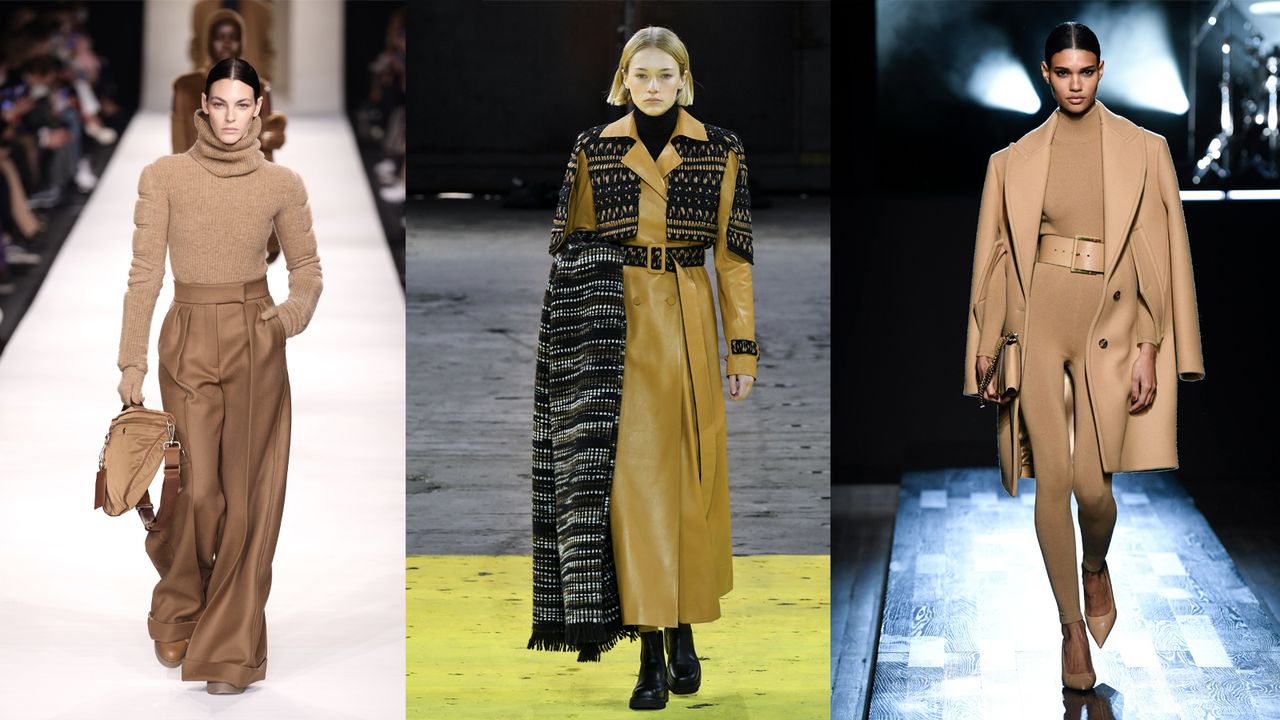 The spring/summer runways were full of mood-boosting brights, known amongst the fashion crowd as dopamine dressing. The influx of bright color clothes brought plenty of cheer but for the cooler months ahead it's time to add in spme caramel-inspired hues. While the runways chose to take a top-to-toe approach, the simplest way to try this trend is with a classic camel coat. Max Mara's belted wool camel coat is a timeless piece – a version features on every fashion insider's wardrobe wish list. 
Paula says: "Camel shades are a byword for chic. To elevate this look, take a style tip from model Rosie Huntington-Whiteley and team them with similar hues such as beige, cream and off-white for a tonal look that will make your outfit look more expensive. Finish your outfit with minimalist accessories in neutrals for a runway-worthy look."
WHAT TO BUY
Camel coat: Throw a camel coat over any outfit and you'll immediately feel put together. A wardrobe essential of fashion editors across the globe, this is one item your dream capsule closet is crying out for.
Camel cashmere: A crew neck cashmere sweater in camel is the perfect piece to add to your best sweater collection. This neutral shade works with every color in your wardrobe from blue jeans to smart office trousers.
Camel shoes: Nearly nude, this chic shade is the ideal addition to your shoe wardrobe. Whether you opt for a pair of leather ballerina pumps or court shoes, the caramel hue will work with a multitude of outfits. Get ready to add these to your shoe trends 2022 shopping list.
4. STATEMENT LEATHER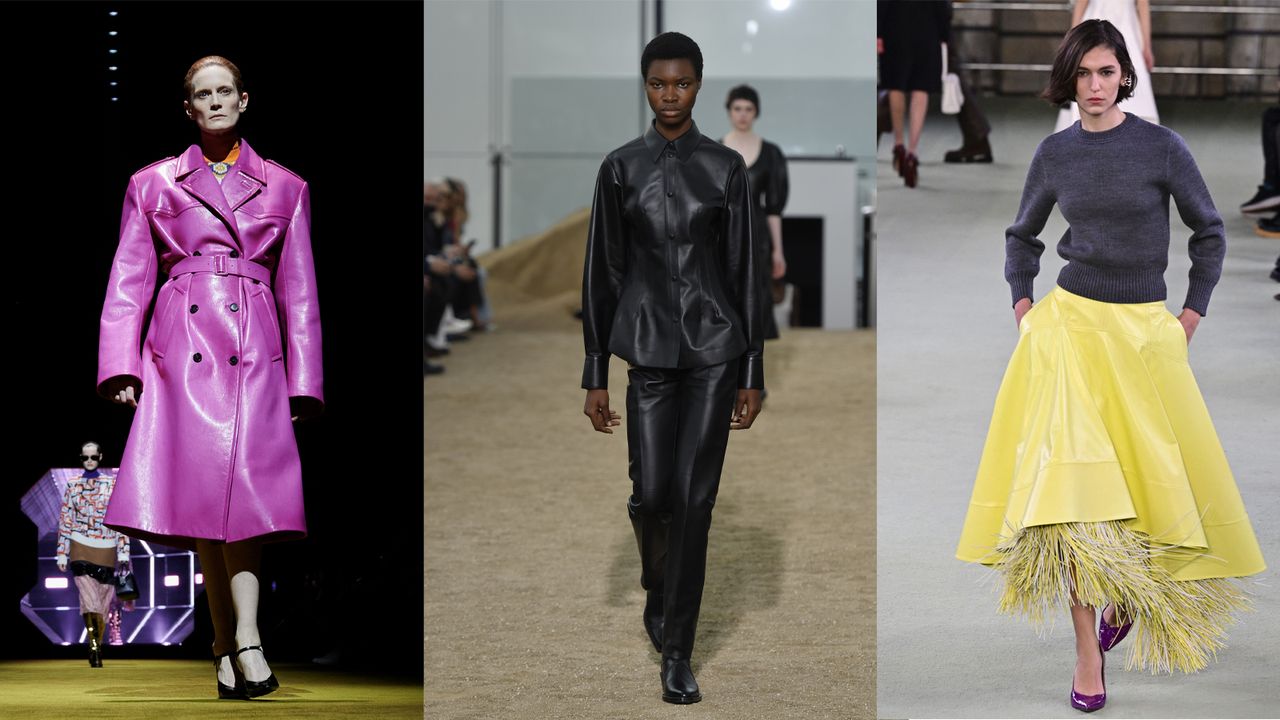 If you've ever wondered how to wear leather pants, skirts or dresses the new season sees this stylish fabric come into its own. Take inspiration from the Fall 2022 fashion trends with a full leather look or statement piece. Bottega Veneta's catwalk featured trenches, trousers and full skirts with undulating fringing peeking out, while fashion editor favorite Chloé featured a variety of looks including head to toe statement leather and French designer Isabel Marant showed lust-worthy leather dungarees. However, it was Prada's fuchsia belted leather trench that stole the shows, proving that dopamine dressing isn't going anywhere, whilst setting the tone for the fashion color trends 2022. 
Farrah-May advises, "Considered both elegant and edgy, leather is a perennial style staple. Most recently we've seen celebrity sensation, Julia Fox, effortlessly style out a catwalk of all-black leather looks. A great leather item can truly reboot any outfit, and this timeless fabric can be styled in a multitude of ways and if looked after, last a lifetime. 
"Sceptical of a full leather look? When in doubt, consider investing in leather accessories, which can be worn year on year throughout the seasons. My pick of the moment would be a versatile '90s-style leather shoulder bag in hot pink, the trending color of the season. Leather doesn't have to be black!"
To try the full leather look at home, opt for a leather shirt tucked in to leather trousers or a pencil skirt for a slick all-leather look. As temperatures cool, add a trench or your best leather jacket in the same skin for a dramatic look.
WHAT TO BUY
Leather shirt: Swap your cotton button down for a leather shirt come Fall. Wear it buttoned to the collar and tucked into leather trousers or a skirt for a runway worthy look. 
Leather trousers: Previously associated with motorbikes and racy fetish wear, leather trousers have gradually become a mainstream wardrobe item and are available in a wide variety of cuts, from tight fitting leggings to jeans and culotte cuts. 
Leather trench: The trench coat is a timeless silhouette. Next season sees it get a modern makeover in leather – go for muted tones such as black, navy or khaki or if you're feeling brave, take a tip from Miuccia Prada and opt for hot pink for standout style. 
5. MINI SKIRT SUITS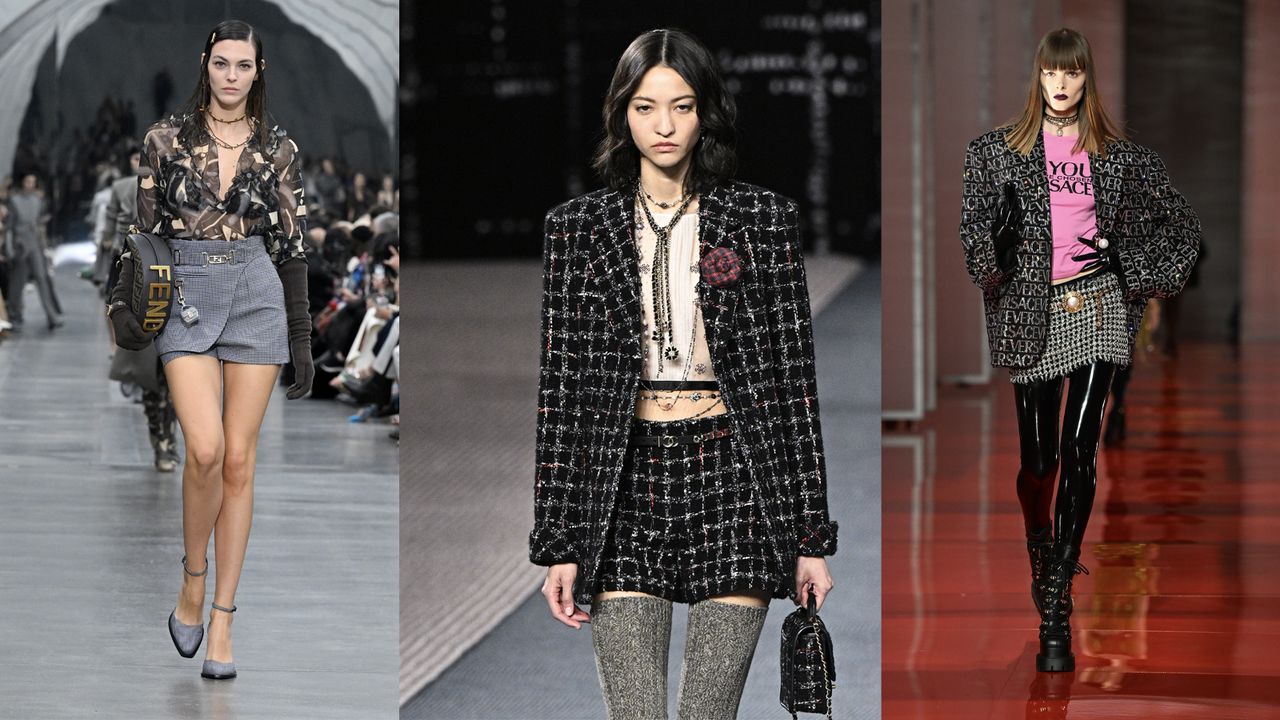 Last season's trend for mini skirts isn't going anywhere for winter. The short hemline is, however, going back to school for a preppy twist. Think tweeds, checks and pleats that will remind you of your primary school uniform. Worried about getting your legs out? Paula offers this advice: "plenty of women are scared of wearing shorter skirts as they get older. If you're not feeling confident, take your cue from Chanel and opt for a pair of high denier tights in black or an earthy tone to wear with a shorter hemline. The tights will give your legs a smooth silhouette, acting like some of the best shapewear."
WHAT TO BUY
Pleats: When it comes to how to wear pleated skirts, think less gym kit and more kilt to make this look feel fresh and directional. In structured fabrics such as wool, the style is additionally flattering as it skims over hips to create a streamlined look. 
Tweeds: A winter classic, nubby tweeds are a shortcut to grown up style. Try teaming your tweed skirt with a matching jacket for a grown up take on short hemlines. 
Checks: From houndstooth to Prince of Wales, there's a check for every taste. Monochrome patterns are the most versatile as they can be teamed with a variety of block colors.
6. BLAZERS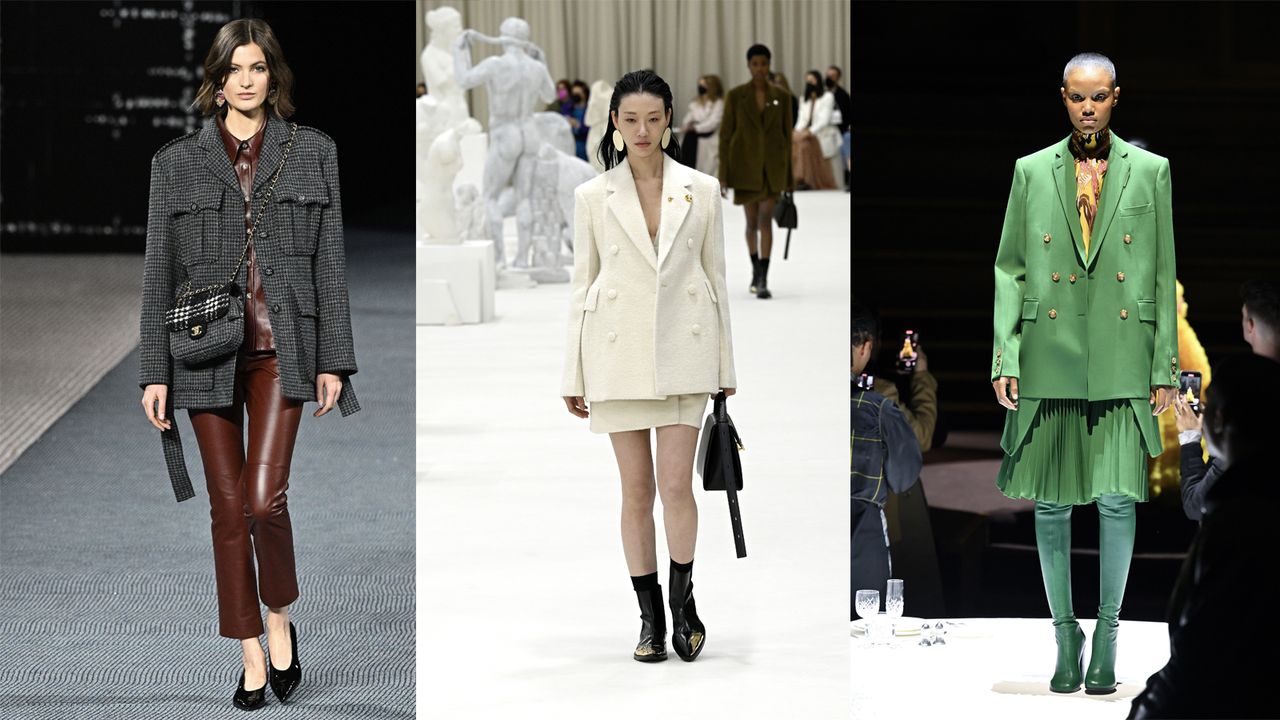 Blazers have become a staple of many a capsule wardrobe, and this season sees the blazer go big, quite literally, with an oversized silhouette. Shoulders so wide they can barely fit through the door were seen on the runways of Chanel, Acne and Jil Sander to name just a few. The key to wearing this Fall 2022 fashion trend is balance – many designers chose to pair strong upper bodies with sleek dresses or fitted bottom halves underneath to stop the look from being overwhelming. It's also important to consider your body type when investing in a good blazer. 
Paula says, "A blazer is a great wardrobe staple that can be worn at the office or at weekends for smarter events. However, in order to get the most wear out of your blazer, it's important to consider the fit. If you're tall, avoid cropped styles as they can throw off your proportions. Instead, look for longline lengths that will work to accentuate your figure. Petites on the other hand will look great in shorter length or cropped blazers as they will complement their proportions."
WHAT TO BUY
Double breasted blazer: This shape works well if you have an hourglass body shape as it will nip in at the right point to highlight the smallest part of your waist. Shorter, cropped blazers worn with high waisted trousers and skirts are also great for drawing attention to your natural waist.
Single breasted blazer: Worn done up, a single-breasted blazer is flattering for those who have curvy hips as the fabric will skim over as it fans out from the waist. Structured shoulders will help this style balance out pear shaped bodies.
Open front: If you have a large bust or are generally top heavy, an open fronted blazer is the best shape for your figure as it will hang in a flattering way, drawing the eye to the space between the lapels, creating a slimming window between them.
7. EXTREME KNITWEAR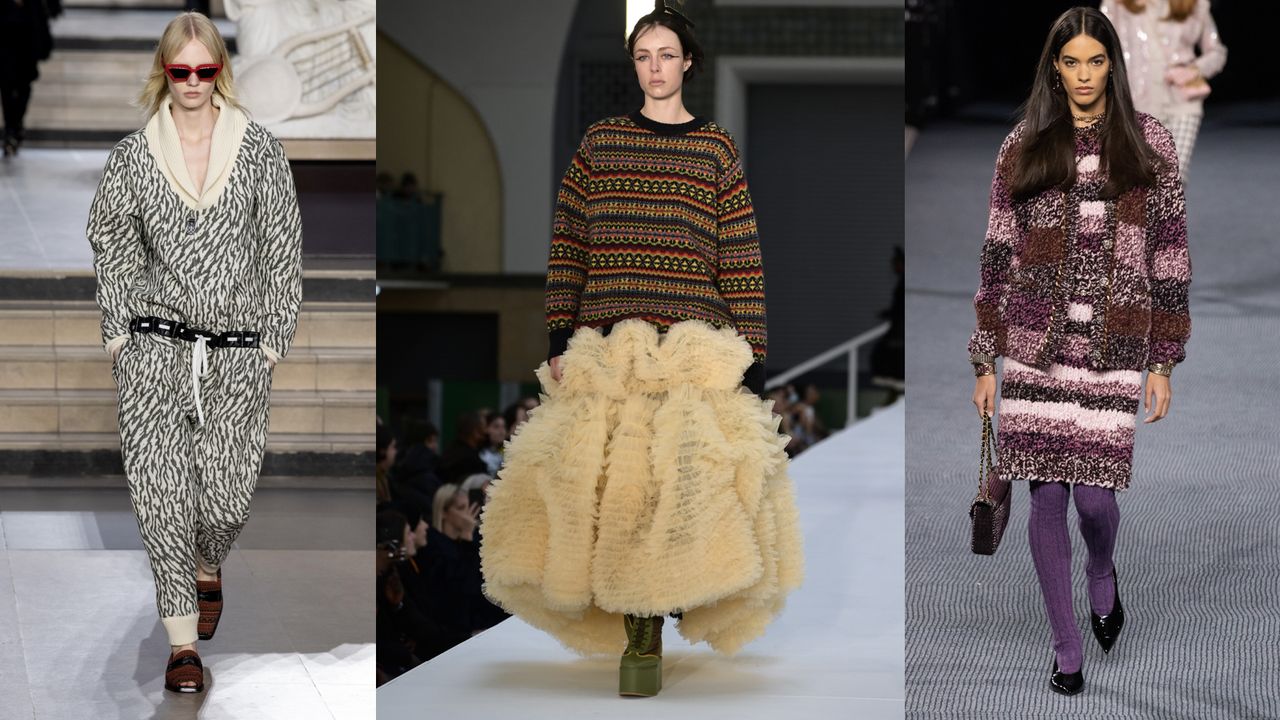 Extreme knitwear is the name of the game as we head into Fall. This season sees the best jumpers, scarves and all manner of knitted pieces go supersized. British designer Molly Goddard teamed her signature tulle dresses and skirts with oversized argyle and fair isle knits while Louis Vuitton showed head to toe wool in a knitted monochrome two-piece suit.
Thinking about wrapping up warm this winter? Paula has this advice: "If you're petite, it's easy to be overwhelmed by oversized styles. If you go for a maximalist knit, try to keep your bottom half a neat shape – try some of the best petite jeans – to balance your silhouette. Another trick is to belt bulky jumpers and cardigans to show off your waist."
WHAT TO BUY
Sweater: Take your sweater to a new dimension, literally. Look for oversized knits that you can snuggle down in once temperatures drop. An easy way to try the trend is to simply size up in a style you like for a more relaxed fit.
Scarf: A scarf is essential every winter but this season sees the return of blanket styles as well as extra-long lengths that just ask to be wrapped around your neck repeatedly. Blanket shapes are also great as they can double up as cozy covers when you're next thinking about what to wear on a plane.
Knitted skirt: A cozy option once there's a chill in the air, a knitted skirt will slide seamlessly into your wardrobe. Opt for a classic color such as black, grey or navy to maximise outfit options.
8. MAX OUT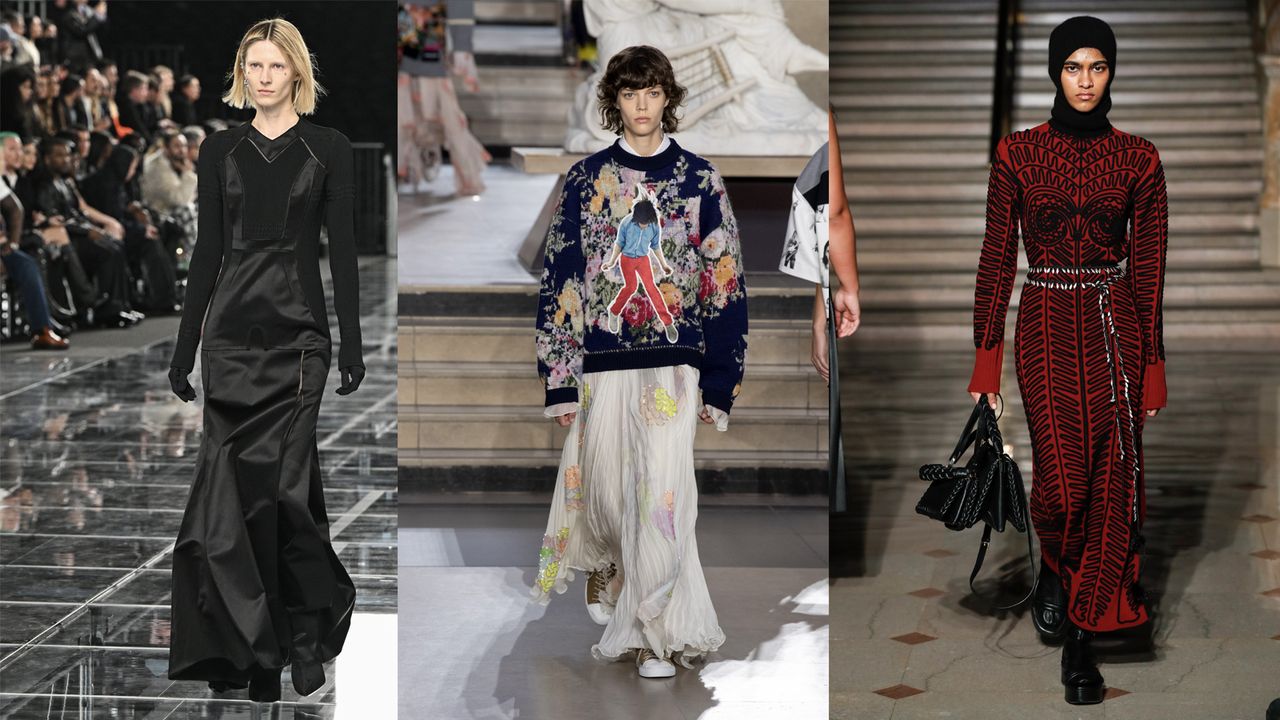 Fashion is a game of extremes – while heightened hemlines strode down the runway, at the other end of the style spectrum there were also plenty of designers who chose to go to extreme lengths with maxi dresses and skirts. Floor sweeping styles were seen on the runways at the likes of Balenciaga, Acne, Burberry, Chanel and Saint Laurent. 
If you're worried that this look could swamp you, Farrah-May has this advice, "A muted, and more minimalist look is simple to create with a floor length skirt or dress. This can be easily achieved by choosing a sleeker, figure-hugging skirt and piecing it together with a plain tee, leather mules and lastly, simple clean accessories."
WHAT TO BUY
Maxi skirt: From slinky bias cuts and second skin skinny styles to voluminous tiers, there's a maxi skirt for every body shape. If you're going big on the bottom half, wear it with a fitted top to balance your silhouette while more fitted styles can be worn with looser tops.
Maxi dress: Move aside the best midi dresses, the maxi dress takes on a dramatic feel for the Fall 2022 fashion trends. The sweeping silhouette of maxi dresses can seem tricky to master but the key is in the length – look for versions that end around the ankle and have fitted top halves to balance the volume of fabric. 
Maxi knit: A cross over of both the maxi length and extreme knit trends, the maxi knitted dress ticks both boxes. To avoid being overwhelmed, opt for a fitted knit dress or one with a belt to define your waist. 
9. BIG COAT ENERGY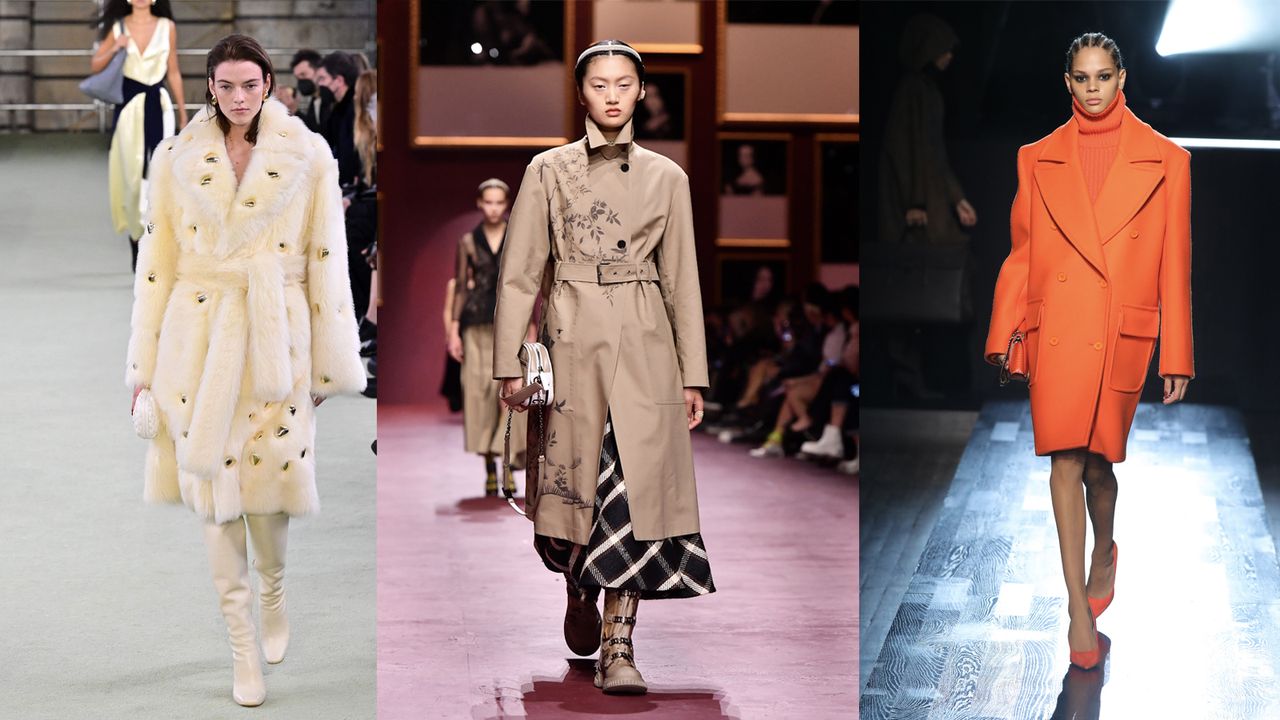 A new coat is a great way to update your winter wardrobe and the runways were full of faux fur, brights and fun patterns in a variety of cuts and silhouettes. Considered an investment piece with a higher price tag, it can be hard to choose which of the best coat trends 2022 will work for you but Farrah-May offers this advice, "Trends come and go, but a statement coat will always prevail. Cue vivid colors, fluffy faux furs and striking prints; throwing on bold outwear will guarantee an uplift to what can be an otherwise minimal outfit – with little effort!
For daytime, I recommend choosing a coat in a cheerful color. Revel in wearing the colors you love, head to toe. For evenings, I lean towards outerwear with playful prints, from a classic stripe to a kitsch youthful gingham. By simply pairing a patterned coat with a simple monochrome outfit, you can let the coat do the talking. If you're keen to embrace the maximalism trend, opt for a vivid color when choosing your monochrome look."
WHAT TO BUY
Faux fur: Cozy faux fur and teddy style coats feel like you're wearing a hug. Bottega Veneta's belted chubby fur featured fun embellishments for a seasonal update on this cold weather favorite. Look to faux fur brands such as Charlotte Simone and Shrimps for quirky styles.
Trench coat: This timeless coat shape should be in every woman's wardrobe. Looking for a seasonal update? Dior's runway featured versions with subtle floral details or corsetry for those looking to make the most of their waist while Givenchy showed dramatic floor length cut. And of course, there is always the classic Burberry trench coat for an iteration that will always be in style.
Statement color: As feel-good fashion continues in the form of dopamine dressing, bright coats are still hugely popular. Bright colors are a great way to boost both your outfit and mood on dull winter days so why not swap boring blacks and greys for pink, orange or vivid blue.