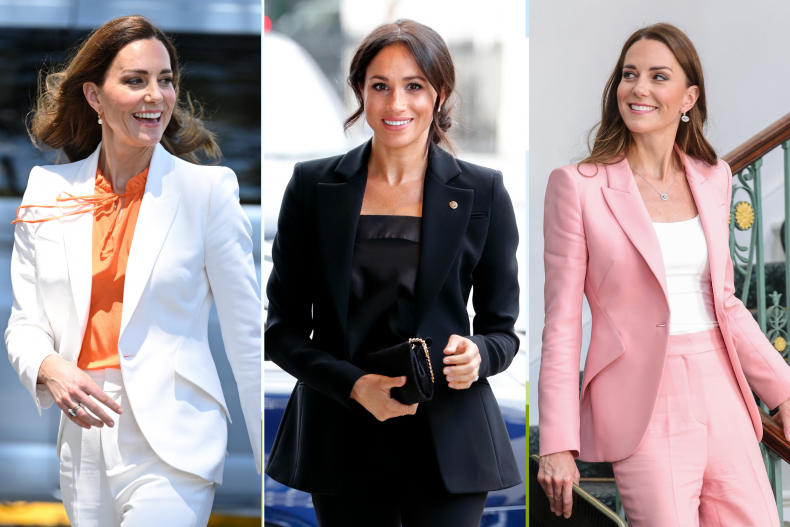 Kate Middleton and Meghan Markle's Top Pantsuit Fashion Moments
Both Kate Middleton and Meghan Markle are proven fans of the pantsuit with both royals wearing the chic power-dressing style staple for official public events.
After Kate stepped out in a sharply tailored Alexander McQueen pantsuit for an early childhood development roundtable with government ministers, Newsweek looks at some of the royal sisters-in-laws' top pantsuit fashion moments.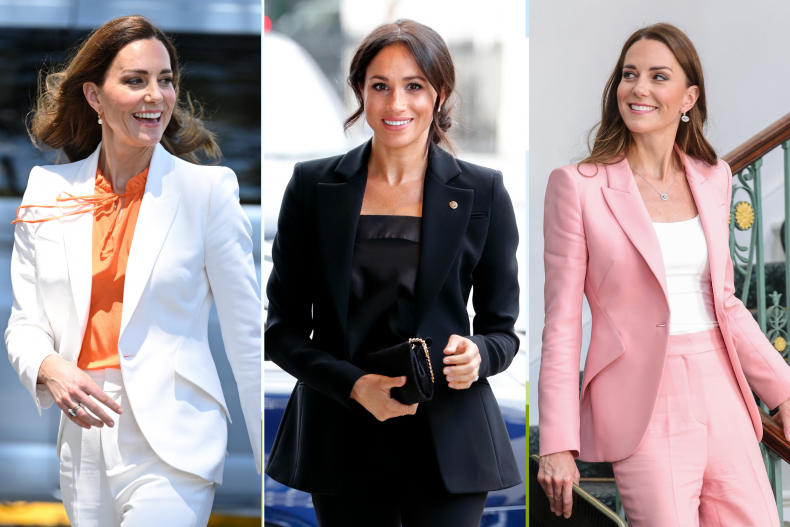 Meghan Markle, Ireland, July 11, 2018
When Meghan Markle joined the royal family in 2018 she brought with her a fresh sense of style which bridged European sophistication with American sportswear ease.
On her first royal overseas trip to Ireland, Meghan wore a black pantsuit made by the designers of her wedding dress, the French fashion house of Givenchy.
Meghan wore this elegant look with a plain white scoop neck blouse and Givenchy belt featuring the house's Greek key motif.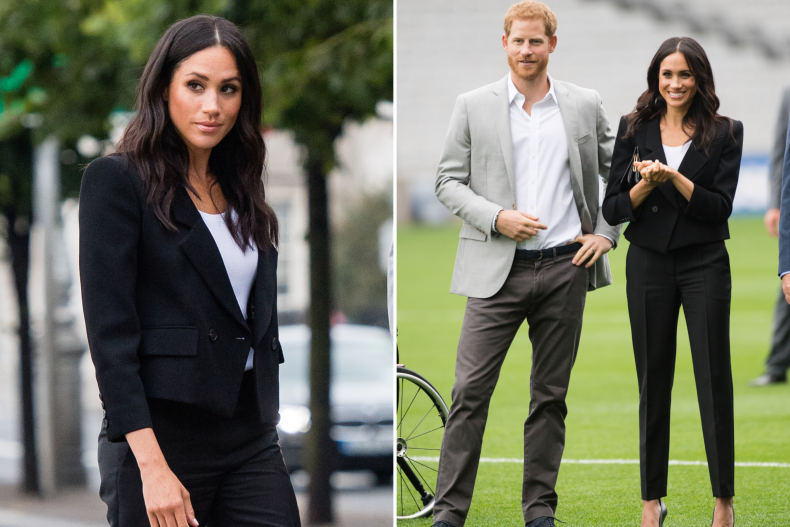 Meghan Markle, Wellchild Awards, September 4, 2018
Meghan's next pantsuit outing came at an awards ceremony in London just months after she married Prince Harry.
For the event, the new Duchess of Sussex debuted a chic black pantsuit from American fashion label, Altuzarra.
The sharply tailored suit jacket with wide lapels was contrasted by the matching trousers which inverted the triangular shape created by the jacket with fluted legs.
With her suit, Meghan paired a black silk blouse by Deitas and a black leather clutch bag from Stella McCartney.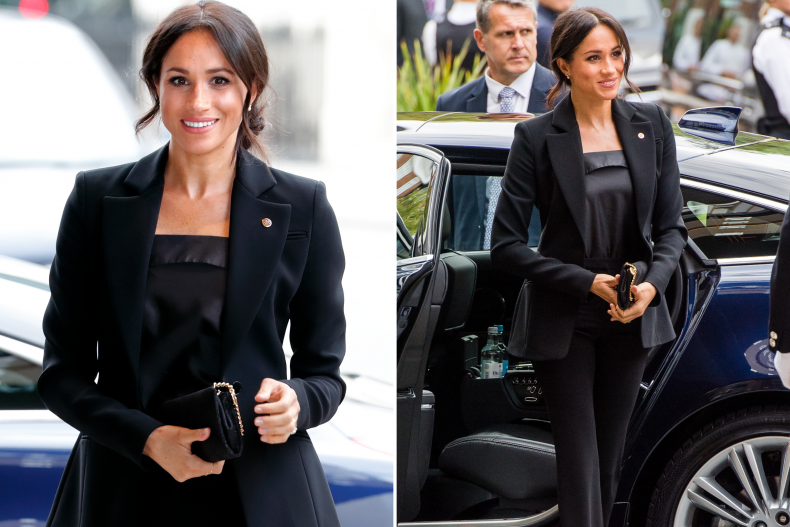 Kate Middleton, London Ambulance Service, March 23, 2020
In March 2020, Kate Middleton stepped out on a visit to the London Ambulance Service in Croydon wearing a statement pantsuit in a deep shade of pink.
The suit is an example of Kate's low-budget wardrobe staples with the suit jacket and pants costing a combined $245 at the time from Marks & Spencer.
Kate accessorized her look with gunmetal gray high heels from Hugo Boss and gold clover leaf charm earrings.
Meghan Markle, New York, September 24, 2021
On a widely publicized visit to New York in September 2021, Meghan wore an interesting variation on the pantsuit in red cashmere.
The oversized jacket in red with orange accents as well as the matching fluted pants was made by the designers Loro Piana and comes from their ready-to-wear collection.
Meghan wore the pantsuit for a full day of visits including to a school where she reportedly read from her children's book The Bench and to a Harlem restaurant.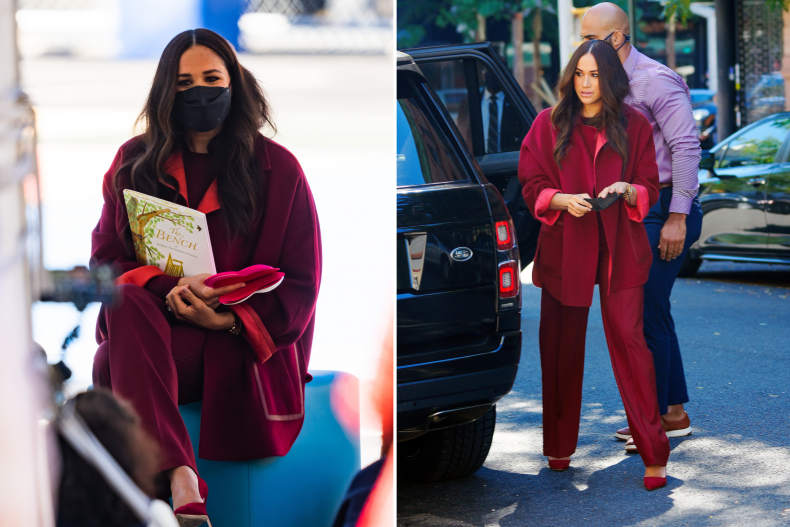 Kate Middleton, Ireland, September 29, 2021
During a visit with Prince William to Northern Ireland in September 2021, Kate Middleton debuted a striking purple pantsuit with a tailored double-breasted jacket and cropped cigarette-style pants.
The suit was made by one of the royal's favorite designers, Emilia Wickstead, who is also one of sister-in-law Meghan's go-to labels.
Kate paired her look with Emmy London block suede heels and a black leather quilted handbag by Jaeger.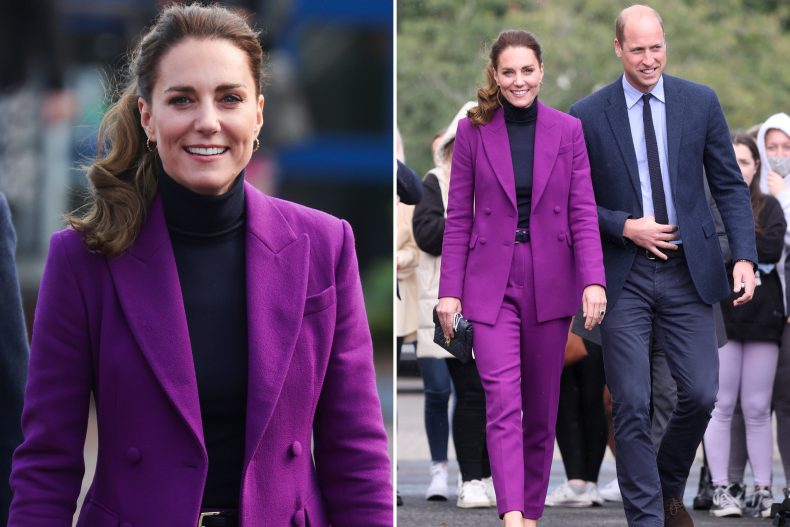 Kate Middleton, Jamaica, March 23, 2022
During the Cambridge's polarizing tour of Jamaica in 2022, Kate Middleton debuted an attention-grabbing pantsuit in white by the designers of her wedding dress, Alexander McQueen.
Kate's fitted blazer and pant combination was worn with a vibrant orange blouse with a gathered collar from Ridley London.
The royal wore her pantsuit for a full day of activities, including a meeting with the Jamaican Prime Minister Andrew Holness and a visit to a teacher training college.
Kate paired her pantsuit with a vintage mid-century woven handbag and white leather Jimmy Choo high heels.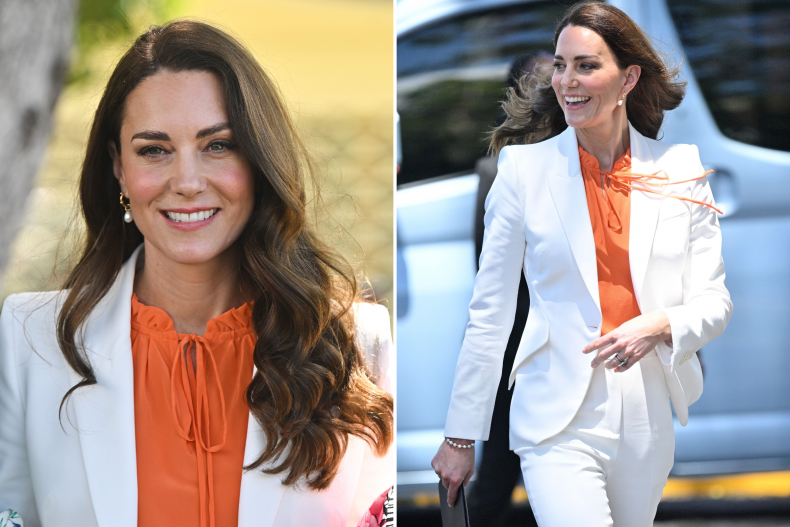 Meghan Markle, Invictus Games, April 15, 2022
For her first public visit to Europe since stepping down as a full-time working member of the British royal family and since the broadcast of her landmark interview with Oprah Winfrey, Meghan Markle started the Invictus Games by wearing a striking soft tailored pantsuit.
On the first day of Harry and Meghan's visit to the games in The Netherlands, the duchess wore a white double-breasted blazer and matching wide-legged pants from the Italian fashion house of Valentino.
Meghan paired her look with a Valentino handbag in white leather with gold hardware and also wore a pair of Aquazzura high-heeled pumps.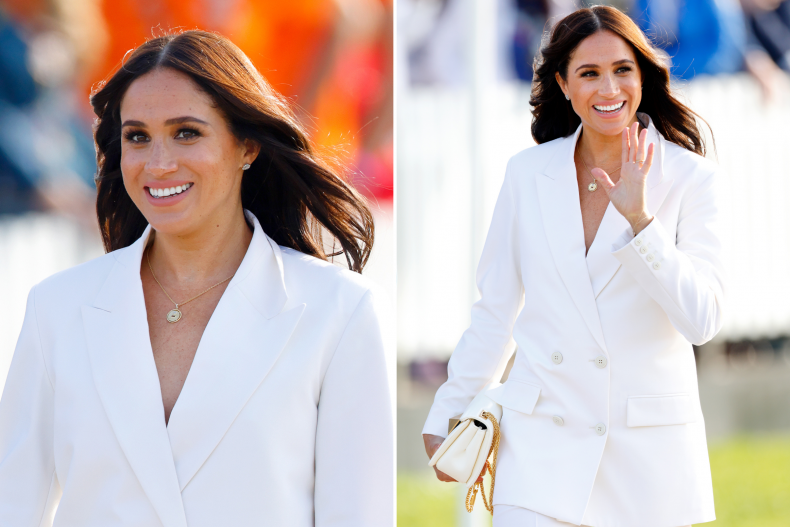 Kate Middleton, Early Years Roundtable, June 16, 2022
For her Royal Foundation Centre for Early Childhood roundtable with representatives from the U.K government in June 2022, Kate debuted a pink pantsuit with statement pocket details and cigarette-style pants.
The suit was identical to the variation in white by Alexander McQueen that the royal last wore on her royal tour in Jamaica and for the occasion, she paired it with pink suede high-heeled pumps.