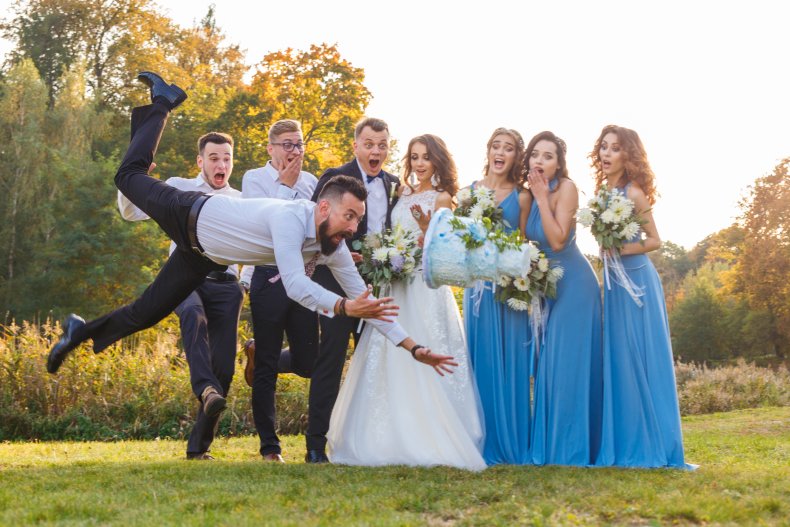 Man Dragged for Thinking Wedding Party Pairing is A Ploy to Embarrass Him
Internet commenters were beside themselves after one man revealed why he thinks his best friend's wedding is really a plan to embarrass him.
Posting on Reddit's r/AmITheA**hole, Redditor u/simap10 (otherwise referred to as the original poster, or OP) said he's elated for the couple to be married but explained how a bad date with a bridesmaid sparked a chain of events leading up to his supposedly impending downfall.
Titled, "[Am I the a**hole] for demanding a different bridesmaid at my friends wedding?" the post has received more than 5,000 votes and 2,600 comments in the last day.
"I'm ecstatic for my friends," OP began. "But here is the issue. They paired me up with the one bridesmaid I'm not a fan of."
Years ago, the original poster said he went on a date with the bridesmaid in question, "Brooke," and was immediately skeptical of the situation, first because she was four inches taller than him and second—because of her job.
"She was a cashier at a tanning salon," OP wrote. "I told her that I just wanted someone who had a defined career path and made good money."
Noting that it was the soon to be bride who initially set the pair up, the original poster said he was accused of being shallow and abandoning his date "because she was poor." And now, he is paired up with the same woman, much to his chagrin.
"I just don't want to do it with her," OP wrote. "I asked [the bride] to switch me to a different girl. And she refused. Saying she wants it this way."
"I'm halfway convinced they are doing it to mess with me," OP continued. "I don't want to cause a thing here. But I'm nervous they want to f**k with me because of the height difference or something."
Like the perfect date, venue and menu, choosing the right—or wrong—people to make up a wedding party has the potential to make or break a couple's big day.
From initial planning sessions to the final moments of the reception, The Knot reports that members on both sides of the wedding party have specific roles and responsibilities to ensure everything goes smoothly when it's showtime.
Well-oiled wedding parties can pull off the most lavish weddings without a hitch. Clunky groups plagued with infighting are a major headache, especially for the partners that chose them.
Recently, Newsweek has reported on numerous Reddit threads detailing wedding party controversies, including one woman who was berated after turning down the opportunity to be a bridesmaid for her "bridezilla" sister and another, who faced harsh backlash after she told her fiancé his sister can't be a bridesmaid for the simple reason that she hates her.
But where most controversies involve hostility between a bride or groom and members of their wedding party, however, the original poster's is a tale of conflict between himself, a bridesmaid and his belief that the marrying couple is using their wedding to embarrass him.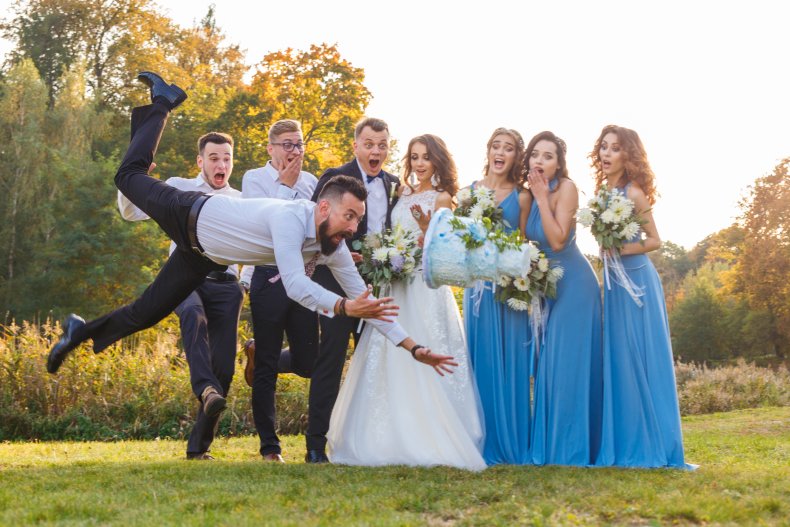 Throughout the comment section of viral post, however, Redditors called out the original poster for this belief, and for his behavior on a date multiple years ago.
"There are so many reasons [you're the a**hole]," Redditor u/Aylauria wrote in the post's top comment, which has received nearly 19,000 upvotes. "You are shallow. You did ditch her [because] of your perception of her job and wealth.
"Nothing about the wedding is about you," they continued. "Zero. Zip. Zilch. Maybe get some therapy so you can learn that the world does not revolve around you."
Redditor u/angelaelle, whose comment has received nearly 5,500 upvotes, offered a similar response.
"Why do you think you have any leverage?" they questioned. "You're not in any position to make demands at someone else's wedding. Either deal with it or don't go."
"You have this backward," Redditor u/poetic_justice987 chimed in, receiving more than 2,000 votes. "You are not being saddled with Brooke for this —she's being saddled with you. You are allowed to be shallow and pretentious, but stop pretending you're not."
Newsweek reached out to u/simap10 for comment.