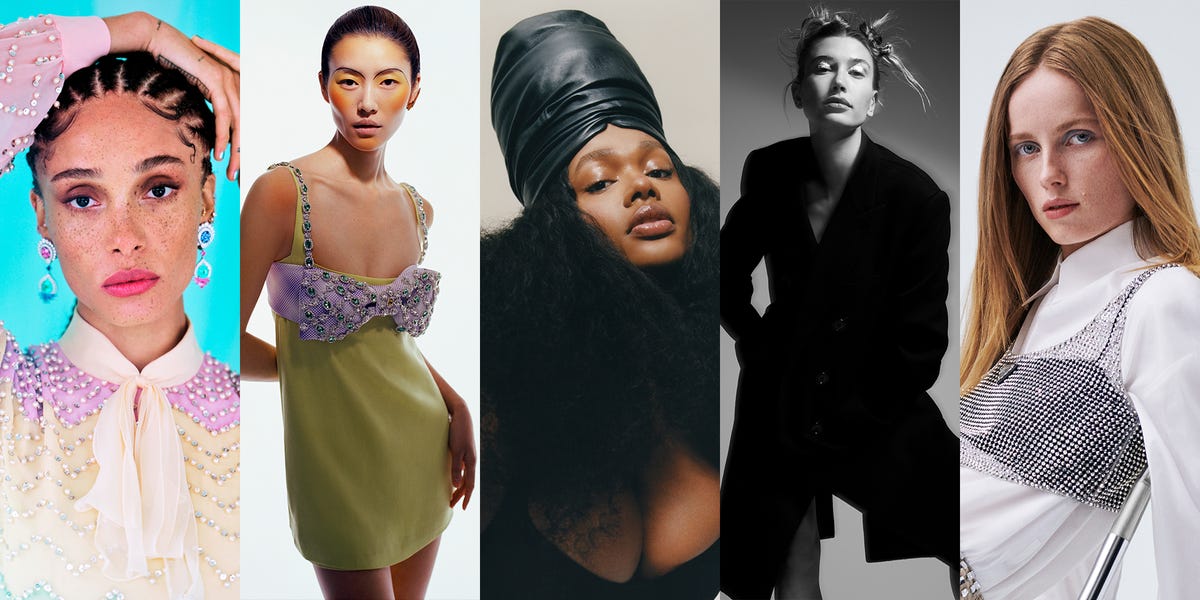 Precious Lee, Rianne Van Rompaey, Hailey Bieber, Liu Wen, and Adwoa Aboah Are Our May Cover Stars
Beauty, it has been said, is only skin deep. But that notion of beauty barely scratches the surface. Beauty is an elemental part of fashion, the clay that designers reshape and remold each season into newer and ever more vital visions. Beauty is bound up in identity, with who we are and how we feel on a deeper, more profound level. It's a ritual, an art, a way of seeing–something that reveals itself all around us if we just open ourselves up to looking for it.
This issue explores beauty from a wide range of perspectives, from the best products and practices to make you feel most like yourself, to how we all reckon with beauty in a more personal way. The common denominator is that there is none—beauty means something different to each and every one of us, and how we see it and our individual relationships with it are wholly our own. During the past year, there have undoubtedly been moments when the world has seemed like a place bereft of beauty, ugly even. But then something happens to make us realize that its not, that even in times of darkness there is a beauty in the ways that we are all connected that never goes away. Spring is a season of renewal–this year maybe more so than in others. We wish you a healthy, happy, and beautiful one.
Precious Lee
As Told to Kaitlyn Greenidge
·
Photographs by Renell Medrano, Styling by Sydney Rose Thomas
"Being from the South has contributed so much to how my family has culturally embraced beauty. I'm so grateful I have my face and my body and I look how I look. Big ups to my parents because I'm such a cute half-and-half version of them…"
·
Rianne Van Rompaey
As Told to Jenna Rosenstein
·
Photographs by Cass Bird, Styling by Samira Nasr
"As a child, I loved having strange haircuts. I went from having a short bob with fringe to short in the front, long in the back. Looking different from other kids made me feel beautiful…"
·
Hailey Bieber
As Told to Jessica Matlin
·
Photographs by Amy Troost, Styling by Sydney Rose Thomas
"Having done ballet for 12 years, I have that muscle memory. It plays a big part in my body type and in my athleticism. It's kept my body healthy, and mentally it taught me how to be committed to something. I started modeling and traveling around the world when I was 17…"
·
Liu Wen
As Told to Bee Shapiro
·
Photographs by Leslie Zhang, Styling by Jeff Lee
"When I was young, no one told me I was beautiful. I was a very tall girl, and I grew up in Yongzhou, China. It's a city, but it's not a major one. I dressed more like a tomboy in very slouchy clothing. I was very humble because I didn't think of myself as beautiful…"
·
Adwoa Aboah
As Told to Nikki Ogunnaike
·
Photographs by Liz Johnson Artur; Styling by Jeanie Annan-Lewin
"In my younger years, it wasn't that I didn't care, but I was young and innocent, so I hadn't even started thinking about [beauty]. My family are proper tight, and I felt not necessarily beautiful, but I felt comfortable…"
---
Precious Lee Hair: Evanie Frausto for Bumble and Bumbles; Makeup: Marcelo Gutierrez for M.A.C Cosmetics; Manicure: Aja Walton for Essie; Prop Styling: Andrea Stanley.

Rianne Van Rompaey Hair: Orlando Pita for Orlo Play; Makeup: Romy Soleimani for Bobbi Brown; Manicure: Aja Walton for Essie; Production: LOLA Production.
Hailey Bieber Hair: Tina Outen for Bumble and Bumble; Makeup: Yumi Lee; Manicure: Michina Koide for Dior Vernis.
Liu Wen Hair: Youhua Xu; Makeup: Yooyo Keong ming; Art Direction: Fuwafuwa Studio; Production: Adam Chen and Lu Cai; Set Design and Prop Styling: Yuan Bei, Shujie Chai, and Tong Zhang.
Adwoa Aboah Hair: Issac Poleon for Fudge Professional; Makeup: Ammy Drammeh for Tom Ford; Manicure: Imarni for Bio Sculpture; Production: Yasser Abubeker; Set Design: Studio Augmenta.
This article originally appears in the May 2021 issue of Harper's BAZAAR, available on newsstands May 4.