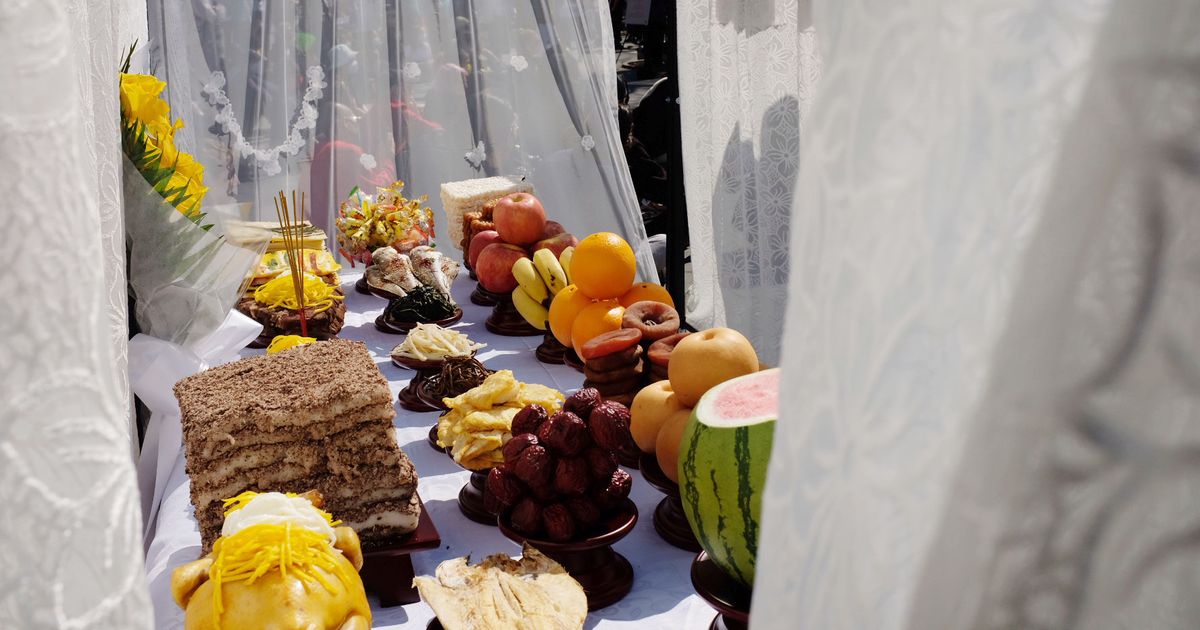 Red Canary Song Builds a Memorial to the Atlanta Spa Victims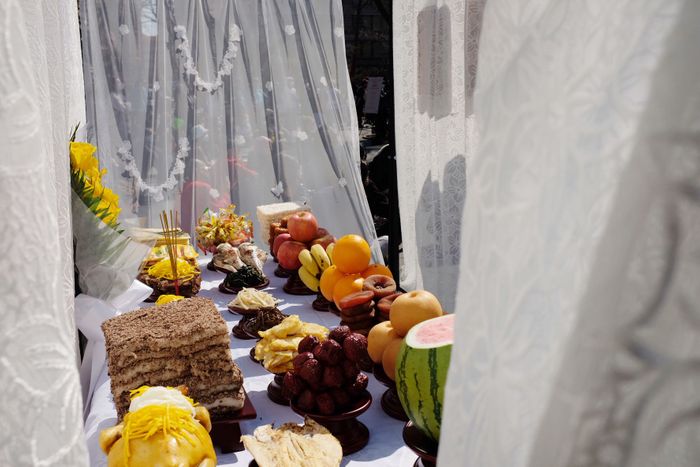 On Wednesday, members of the Red Canary Song Collective — a coalition of Asian sex workers — hosted a vigil in Washington Square to remember the eight people who died in the shootings at three Atlanta spas one year ago, six of whom were Chinese and Korean women. For the collective, the event offered a chance to highlight the connection between the mass shooting and the specific forms of violence directed at Asian body-care workers. As Yin Q, a Red Canary Song organizer, said in the vigil's opening remarks, the women had been killed "in a violent spree fueled by racism, sexism, and self-loathing."
Toward the back of the crowd, there was a memorial to the six spa workers, Xiaojie Tan, Daoyou Feng, Soon Chung Park, Hyun Jung Grant, Yong Ae Yue, and Suncha Kim, that took the form of a typical massage parlor. The installation, titled Curtain Armor, designed by Red Canary Song and art directed by one of its members, Chong Gu, held three massage stalls that were each enclosed by white, embroidered lace curtains, with painted portraits of the victims pinned to the outer-facing cloth panels. Inside each stall, on top of each massage table, Charlotte, a 20-year massage worker who leads Red Canary Song's outreach in the Korean community, created funerary altars with incense, flowers, and traditional Chinese and Korean foods piled high on plates — fruit, noodles, fish, shrimp, candies, and alcohol — which are typically offered to the deceased on the anniversary of their deaths, along with tokens that represent prosperity for the afterlife. "The food represents how these spas have become domestic spaces," Yin Q says. "We see people live there. You see the rice pot in the corner. It calls into question why spaces like this are so threatening to society."
Setting up massage tables as memorial altars challenges the stigma and racialized stereotypes surrounding massage parlors that make them a target of violence. The Atlanta shooter described the spas as a temptation he wanted to eliminate. Meanwhile, immigration stings and police raids on these businesses carried out in the name of "rescuing" people often lead to workers getting hurt, jailed, or worse. After all, RCS formed after Yang Song, a Flushing massage worker, died during a police raid in 2017. Earlier this year, two massage workers were killed at Albuquerque spas within three weeks.
"These are spaces that are intimate, private, and yet laden with shame and also invisibility not only in American culture but also Asian American culture," Yin Q says. "Many Asian American communities who are honoring the deaths are erasing the workers' identities as workers. It completely diminishes the fact that — despite how these workers might not have been sex workers, or did not claim that identity — the gunman was targeting them because of his perception that they were sex workers." Empress Wu, another Red Canary Song member, added that the Atlanta shooting "got swallowed into a broader conversation about 'anti-Asian hate', which ignores intersections of gender, immigration, citizenship, and the type of work that they do. It wasn't just an act against Asian people. It's an act against a specific subset of Asian people and affects the way Asian people are conceptualized in Asian culture."
For RCS, changing the conditions that led to the shooting starts with correcting the narrative that surrounds massage parlors. It means showing them as the spaces of care that they are, acknowledging who does body-care work, and pushing for changes like decriminalizing unlicensed massage and ending 24-hour shifts for home health aides, says RCS's Empress Wu.
Once the speaking portion of the vigil concluded, Korean drummers from KQTxNYC performed a funerary procession and the group's organizers stepped inside to visit the altars and light incense. RCS then opened the curtains shrouding the front of the massage stalls and invited the people who attended to leave their own tokens for the dead. The crowd thinned out as people kneeled and bowed in front of the altars and departed the vigil.