The Best ASMR Gifts for Valentine's Day
Composite image by VICE staff
We really wish "pandemic V-Day" was just another hardcore band instead of our imminent reality. But here we are, trying to envision what the most sensual of holidays could—and should—look like at a time when even forehead kisses feel dangerous (because they are), and talk of latex feels more CDC-kink than anything. In light of these intangible times, we say: Why not try something a little different to conjure the feels this Valentine's Day? That's where the ASMR rides in on its noble steed, from one of the most fabulously fried corners of the interweb. 
New to ASMR? "Autonomous sensory meridian response" is basically a relaxing tingling sensation that occurs in the head and spine from sensory stimulation. YouTubers love it. Cardi B loves it. And now, it's so popular as a concept that even the marketing team at Michelob loves it. The spectrum of ASMR content is wide, and typically, the tingle "triggers" are a visual-auditory combo that can come from tapping surfaces, folding laundry, and brushing hair; even actions as tiny as moving a record needle, clinking jewelry, or lighting a match. No, it's not a sexual thing, although that niche does exist. (So does "Jareth, the very pushy King of the Goblins, [who] is here to persuade you to join him in his kingdom of miniature puppets." You're welcome!) 
At its core, ASMR is about easing tension, for everyone—and that's a pretty damn sweet act of love. What could be more giving than offering your significant other a reprieve from their deluge of daily stress? The majority of ASMR trigger objects naturally correlate to pleasure and wellness, which is something we're already in exceptional need of in 2021. Whether you're looking to treat yourself or your loved ones this V-Day, let these ASMR-ready gifts overcompensate for lack of human touch… in style!
---
A serious scalp massager
Why is it that basic scalp massagers always grip like a lazy arcade claw? We're here for the prongs of this powerful scalp "masajeador" by Ceremonia instead. The Latinx-owned haircare brand made a palm-sized massager that can feel gentle, or like the touch of a cheeky raptor upon your scalp, exfoliating dead skin, and, ideally (depending on the thickness of your head?), invigorating blood flow. 
Scalp Masajeador, $16 at Ceremonia 
Tender slime time
The slime community is a real and lucrative subset of ASMR, consisting of folks with a passion for finger-shoveling goo, and inventing plasma combos so wild, they rival even the most exhaustive of diner menus; There's crunchy, slippery, and bubbly slime; slime with sparkle, slime with a pearly finish, and, in this case, a microfoam slime akin to melting snow (should its namesake ring true). "The scent is just beyond divine," writes one reviewer, while another says "If you love good clear slime with fun pompoms, then you will go bonkers over this one."
Slime with Microfoam Beads, $6 at Etsy
Mosser Glass's iconic Bathing Lady dish
The chachki dish to rule them all. Glass-tapping is a staple of ASMR, and Mosser Glass—the beloved go-to of classic V-Day escapes like San Luis Obispo, Calif.'s Madonna Inn—is bar-none in juicy color options (ex. Cobalt Blue [above], Tuscan Pink, Eggplant, and more). This babe is perfect for keys, smokes, jewelry, and any corner that needs more kitsch clinking.
Mosser's Ballerina Mint/Soap Dish, $37.25 at Amazon
The Grateful Dead's best record—on vinyl, of course
Early quarantine sent our musical tastes tailspinning back in time, to our very first bong-rip (were we ever so young, Jerry?) Honestly, the Grateful Dead is the Long Strange Trip that keeps on giving. And while most Deadheads these days may be gifting each other Online Ceramics shirts, why not woo your co-op crush with a limited edition LP of American Beauty? The ASMR-friendly needle-scratch and dust noises are what make the magic.
Grateful Dead's American Beauty on limited-edition red vinyl, $24.98 at Urban Outfitters
A big old box of caviar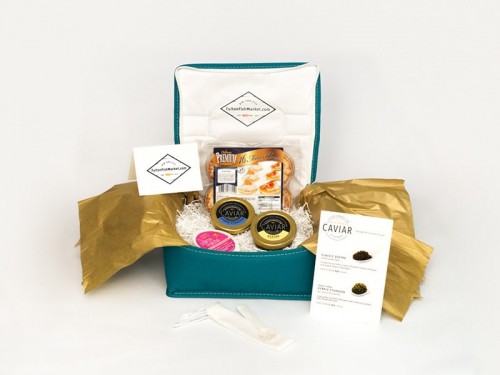 Mukbang is a "digital food phenomenon" that originated in South Korea—and a big ASMR trigger—that involves watching people happily (and often) loudly eat decadent meals. Nothing says, "I love you," or is quite as indulgent, as eating an entire aquatic family. This seafood bundle comes with a medley of caviars, crème fraîche, blinis, and a tiny mother of pearl spoon, and it would be a huge flex to eat it on camera with a captivated audience.
Best of the Best Imported Caviar Assortment Package, $399.95 at Fulton Fish Market
Aphrodite's Arrow Oil
Kindred Black is beloved by ASMR content-makers for its bespoke allure, commitment to slow beauty, and high quality. (Somewhere between apothecary and potion closet, the brand's products always come in hand-blown glass bottles ripe for tapping.) The "Aphrodite's Arrow" oil is a great gender non-specific scent, "created with pure organic essential oils of seductive Bulgarian rose otto, Japanese ylang ylang, patchouli, and stimulating black pepper." Honestly, just keep it for yourself. 
Aphrodite's Arrow, $58 at Kindred Black
Benjoin Perfumed Matches
We only understand about a third of the product description for these swanky, scented matches—and we love it that way. "Arranged in a coffret decorated with the historic Thaumatrope pattern," it reads, "The matches' wood is scented with notes of Benjoin" (which Nordstrom once described as the smell of "enigmatic mountains"). They're handmade in Germany, and "even when unlit in its box the scent can be enjoyed in a small space." Use them for everything from lighting a joint to classing up your bathroom. 
Benjoin Perfumed Matches, $18 at Diptyque
3-D "Fidget Fabric"
People are 3-D printing everything from guns to faux-caviar these days, so it's kind of refreshing to see the technology optimized through this floppy thingamajig. As far as squares of "fabric" go, it doesn't have a prescribed, practical purpose. It just slides around your hands, and, you know, feels cool. Makes a lil crunching sound. Invites you to relax, focus, and vibe in 13 different colors. "This is my 2nd purchase," writes a fan, "In fact I bought 3 all together. One in the house. One in my car. And one in my husband's car." Next: one for the pillow.
ASMR Fidget Fabric, $12.99 at Etsy
A hypnotic desk sculpture
Have you thrice watched that snake and iguana scene in Planet Earth II? Do you wonder where Carl Sagan's turtlenecks are today? Then "Deep Sea Sand Art" is the ASMR trigger for you. Just "rotate the glass ring, and watch as delicate drifts of light, dark, and glittery golden sand shift," reads the description, "into mountains, clouds, rain, oceans, and smoke." Rotate it again, and you'll disassociate from your flesh sack enough to feel the Sands of Time trickle down your neck. 
Deep Sea Sand Art, $95 at Uncommon Goods
Some feel-good scrubby soap
TBH, the virtual spa corner of ASMR is our favorite (so we're gonna stay a while). Content creators will often take the time to highlight products they love that deliver extra tingles, and this exfoliating charcoal scrub soap from the Black-owned brand Art of Sport goes above-and-beyond; It's made with natural botanicals and no sulfates or parabens, and the bar includes activated charcoal—always a fun ingredient, whether it actually does anything for your skin or not—as well as aloe vera, argan oil, and mango seed butter, so it leaves your bod super-soft for late-night V-day activities [wink wink].
Exfoliating Charcoal Body Scrub Bar, $7.95 at Art of Sport
A gua sha stone
Gua sha is an Eastern-medicine-based massage technique that incorporates shapely, smooth stones (made of materials that Gwyneth Paltrow probably eats for breakfast) with alleged benefits that include everything from improving blood circulation and reducing acne. Mainly, it involves rubbing your face with a cold, smooth rock—which feels really good whether or not it actually clears up your zits or makes you look freshly Botoxed. This one from Herbivore is perfect for a morning cheek rubdown.
Rose Quartz Gua Sha, $18 at Herbivore
Secret (or not) freaky, fuzzy slippers
We love our bread, we love our butter, but most of all: We love this newfound foot freedom in quarantine. We can wear nothing at all, or go full-Fluevog. We can cozy our toes up to a veritable country loaf, knowing no one in Zoom (or the rest of the analog outside world) will be the wiser should we choose. There are a million different avenues you can take when it comes to your house slippers; why not go weird?
Bread Slippers, $22.49 at Etsy
A zero-waste hair care kit
Hairbrushing and ASMR go way back, yielding about 1,530,000 search results on Google, and the folks at Package Free—one of the best eco-friendly-basics hubs—have curated a bunch of hair care wares to elevate the act; your goody bag will include "your choice of shampoo & conditioner bars that last up to 80 washes, a 100% compostable bamboo hairbrush, and dry shampoo made with baking soda." No guilt, no waste, just 100 brushstrokes every night for the foreseeable future. 
Zero Waste Hair Care Kit, $55 at Package Free
---
Your faithful VICE editors independently selected all of the stuff featured in this story. We may receive a small commission if you buy through the links on our site.