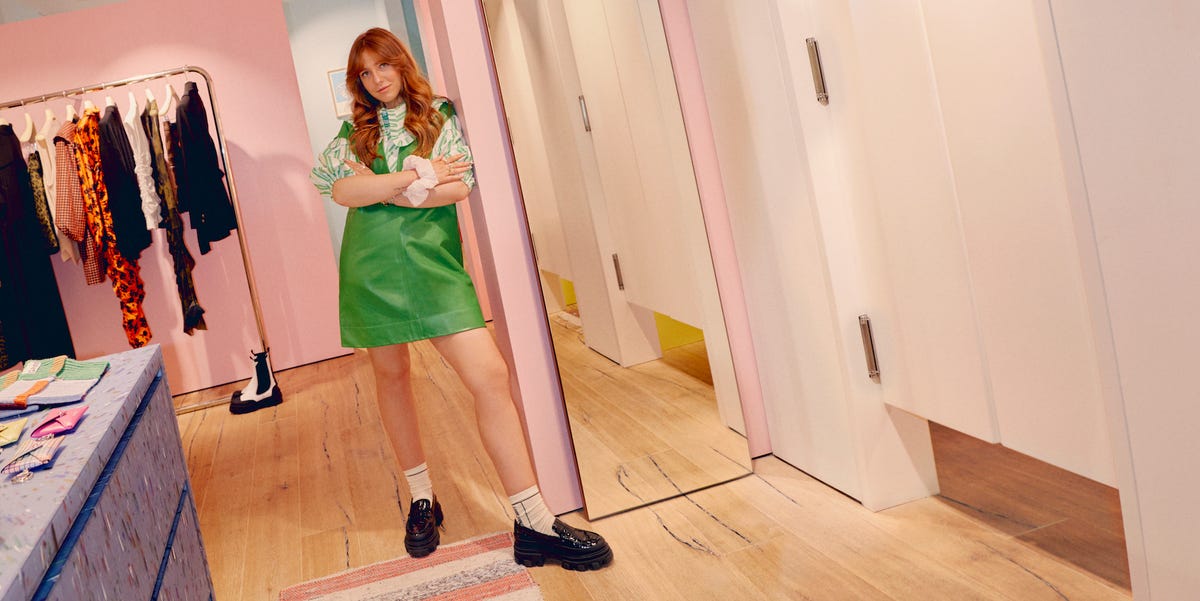 In case you hadn't noticed, shopping is changing. The UK's high streets are seriously unwell. If the shuttered shops in your local city centre don't give the game away, perhaps the high-profile bankruptcies of Debenhams, Arcadia, Warehouse, Oasis – we really could go on – and 177,000 retail jobs lost in 2020 (Centre for Retail Research) might be enough to convince you.
Although the pandemic did nothing to help these relics of the Saturday afternoon shopping expedition, it merely sped up a process put in motion by the rise of online retail. These shops could not compete with the low overheads and big data of e-commerce, and their in-person shopping experiences were nothing compared to the convenience, breadth of choice and ease of use that online shopping provided. The fact that when Topshop went into administration, it was ASOS, the original big beast of online retail, that snapped it up, should tell you everything you need to know.
But even as long-standing fashion brands are pulling down the shutters, there's a hero riding to the rescue. Meet the shop girl 2.0. Forget about ringing up sales on the till, or checking the stock room – those jobs are automated now. The new shop girl is part-PR, part-influencer, a walking advert for her brand, and a woman that customers want to dress like, chat to and hang out with.
Mark Pilkington, author of Retail Therapy: Why the Retail Industry is Broken – And What Can Be Done to Fix It, says that the stores that will survive in the future will have to offer something different to the 'efficient transactional service' of online shopping. Community-building and personalised services are what elevate and transform these shops. 'Having high-level, personal-shopper type people is key to the future of retail,' he says. 'The best analogy for the new breed of super shop staff is that of a stylist in a salon, who becomes the advisor and confidante of the customer. The leverage that they can contribute in terms of building a lifetime relationship with the brand should not be underestimated.'
So it's clear that shops aren't going away, they're just changing – into emporiums of 'brand theatre', in Pilkington's words. Once there, you'll experience the kind of personal connection and care that no online bot can provide.
And key to all of that? 'It's us,' says in-store stylist at Ganni, Laura Klein. 'Store staff are the difference between shopping online and in store. And we know that.' ELLE meets four of the new breed of shop girls.
---
Laura Klein, in-store stylist at Ganni, Beak Street
The just-turned 27-year-old from Hove, Brighton, decided against university, instead working her way up from retail assistant to manager at Arcadia, the former owners of Topshop. It was just as she was considering going back to study that Harvey Nichols' head office headhunted her via her Instagram page, offering a buying internship and setting her on a new career path. After three years at ASOS, and some freelance styling, Klein heard Ganni was opening a London shop: 'I was like, Dream come true.' A self-proclaimed 'Ganni girl through-and-through', Klein has been at the store since it opened.
'Honestly, the amount of DMs I have on Instagram, it's like a full-time job in itself,' she tells me. Klein receives flurries of direct messages every day asking to purchase some chunky boots she's snapped on the shelves, or the collared dress she's wearing.
So many, that the brand has created a system whereby people can shop straight from her DMs: 'We see so many sales through my Instagram. People do look to me for inspiration, which is lovely.'
But what draws shoppers to Klein in the first place? Naturally outgoing, quick to make fierce, fashionable friends (she has a shared Instagram account with fashion buyer Rachel Everitt) and able to talk to anyone, she's the embodiment of Ganni's enviable cool and ultimate approachability. Her brisk, ballsy attitude is as appealing in person as her Farrah Fawcett blowout, Twiggy lashes and Danish schoolgirl-style outfits are on social media. Matched with in-store authority and access, it's a mix that proves potent for the brand she works for, converting likes into sales, and online presence into physical footfall.
'People do call up and ask for in-store appointments and specifically ask for me,' Klein says. And what does an appointment (though she doesn't like the word, saying it feels too formal) entail? Well, ahead of time she'll likely take a look at your Instagram to see your personal style, read your notes, pull out what she thinks you'll love.
'It's like coming to hang out with me,' she says. 'We can have a drink and talk. It's all about the experience.'
---
Siobhan Ryan, community ambassador at Browns East, Club Row
Siobhan Ryan, 26, almost studied fashion but instead opted for history at King's College, London, reasoning, 'I won't sit and do history on my own at home, but I would always do fashion on the side.' Post-graduation, fashion quickly became the main event. She worked as a retail manager at Selfridges, then as community ambassador at Browns East, where she personifies the brand of this thinking-person's boutique.
Ryan thinks she's lost her Mancunian accent 'quite a bit' since moving to London eight years ago, but her propensity for the phrase 'have a chat' remains. Despite her weighty job title ('I know, it's cool, right?'), her typical day involves chatting to Browns East's most loyal and stylish customers over coffee or even sushi. Which NewGen designer to invest in next is only part of the conversation (though Ryan recommends Supriya Lele, 'for her understated minimalism, which is very sexy').
Browns East houses an immersive space upstairs with everything from a Pet Palace (a shop for your pet, obviously) to a Breathpod, plus installations in its entryway including a conceptual garden. Ryan is always up for the unexpected; one of her less-glamorous jobs has been to water the plants. 'That was a nice change,' she says gamely.
Browns East is located just off London's trendy Redchurch Street but, thanks to Ryan's friendliness and northern hospitality, the shop avoids being intimidating. She is tasked with welcoming everyone from tourists to designers and fashion collectors into the Browns family.
But don't mistake her for a meet-and-greeter: Ryan is in constant contact with the brand's most valuable customers, as well as the creative leads at head office. This means texting clients ahead of their favourite items coming online and feeding back just how well the in-store Peggy Gou DJ set went ('People really loved that one,' she says).
Her ability to keep even the loftiest conversations down to earth is the real reason many of the store's most fashionable customers continue to pop by.
---
Dotti Paturel, store manager at Simone Rocha, Mount Street
A buying and retail veteran, Brittany-born Paturel has earned her stripes under fashion's biggest names, including Yohji Yamamoto and Alaïa, but it's with the Rocha family that she truly found her home. She worked with Simone's father, the Hong Kong-born and Ireland-based designer John Rocha CBE in the 2000s, until she was introduced to his daughter's work. Paturel went to Paris to sell Simone Rocha's graduate collection, and was then invited to open and run Simone Rocha's Mount Street store ahead of its 2015 opening. She's been there ever since.
Paturel had an instinct that Simone Rocha was going to be big from the moment she set eyes on her first collection: 'What can I say?' Paturel says, with typical French nonchalance. 'I knew.' A decade later, she is Simone Rocha's official flagship store manager and unofficial ear on the ground. Nowhere to be seen on social media, Paturel's power comes from her little black book full of fashion-collecting clients' contact details. These include singer-songwriter Paloma Faith and architect Farshid Moussavi, among others. 'I have a very loyal and lovely clientele, who have become like friends,' says Paturel. 'I am constantly texting them.'
Paturel is one of the first people in the Simone Rocha studio at the beginning of each season. A quick peruse will tell her exactly what her clients will want and soon she has the pieces in her customers' sizes, ready to be tried on in-store. Procuring items for her faithful buyers gives Paturel 'total satisfaction', as does ensuring they find the piece of their dreams. For a very select few Paturel will bend over backwards for what she calls 'special requests': if they don't have a piece in stock, she will hunt it down. If a piece does not yet exist, she will work on a bespoke order. And, rarest of all, is when she asks Simone Rocha herself to recreate items from seasons past. 'It's amazing to be able to do that,' she says modestly.
'Dotti has been a part of my team for many years,' Rocha says. 'She knows my collections from the very beginning of my career, so her knowledge and warmth are invaluable. She is really there for our clients in every way. She is a beautiful woman, inside and out.'
---
Laura von Behr, founder of Laura von Behr, Blackstock Mews
After a degree in styling at London College of Fashion, 33-year-old Laura von Behr found herself dressing comedians for TV, which, she deadpans, was 'not too exciting'. It was only after moving to work in a textile studio that specialised in archive prints that she considered a side-hustle in selling vintage clothes at fairs. That was three years ago. Her stall has since transformed into an appointment-only vintage store that is the go-to spot for fashionable Londoners to source stylish, sustainable wedding guest attire and ditsy-print dresses.
When I ask von Behr whether she would consider hiring a shop assistant to help her run her eponymous north London studio, she barely hears the end of the question before responding with a hard 'No'. With her name on the door, and her face all over its Instagram, von Behr has realised over the past three years of her business's growth what is clear to others; that she is the USP: 'I just had to find the confidence to realise that.'
She describes herself as 'not actually the most outgoing person', but von Behr's approachability (matched with her unbeatable talent for sourcing pitch-perfect prairie dresses) is her greatest asset on her compact shop floor. Far from forcing the hard sell (something you'd forgive of an independent business owner, with a child on the way, in a pandemic), Yorkshire-born von Behr naturally prioritises comfort and enjoyment while selling: 'You can never force someone to like something.'
And as much as she inspires her clients and followers, she also finds that her customers inspire her in return. Von Behr thinks of one customer in particular – who, discreetly, she will not name – quite often while sourcing, knowing that having a particular woman in mind will help her stay true to her brand. 'She has a way of picking the most perfect 1970s cottony dress and wearing it all year round – to weddings, with a big coat in the winter, with a polo neck. And that's what I love.'
This article appears in the April 2021 issue of ELLE UK.
---
Like this article? Sign up to our newsletter to get more articles like this delivered straight to your inbox.
In need of more inspiration, thoughtful journalism and at-home beauty tips? Subscribe to ELLE's print magazine today! SUBSCRIBE HERE