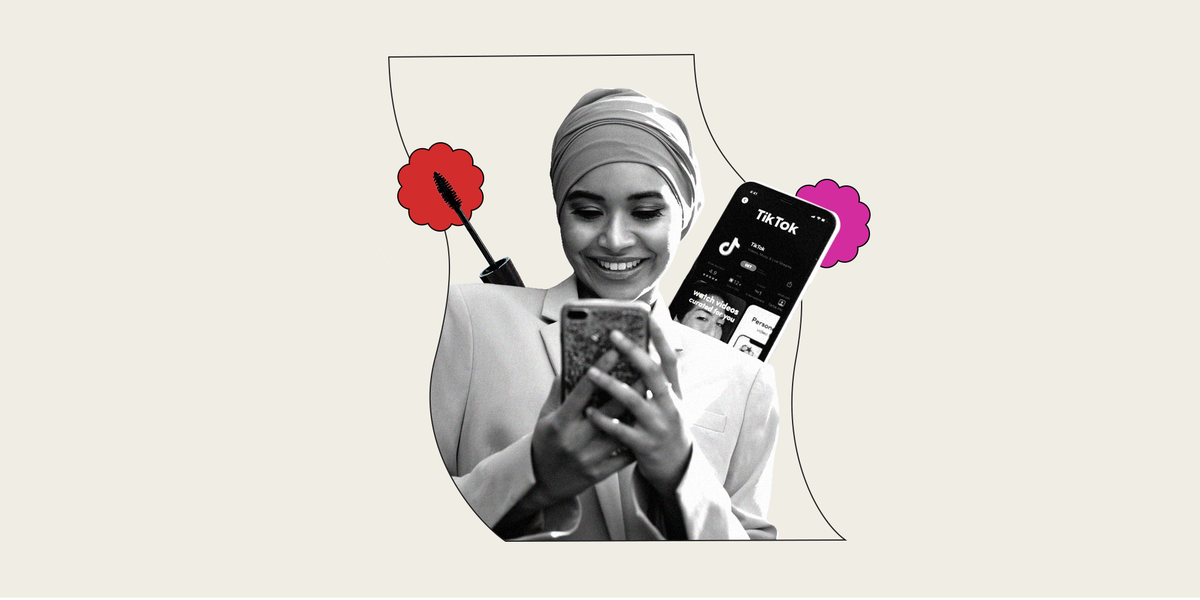 Tiktok Is Changing The Way We Buy Beauty
If you're guilty of sneaking in TikTok scrolling sessions and watching influencer beauty hauls while you're supposed to be WFH, don't worry — you're not alone. The average TikTok user in the UK will spend around an hour per day on the app, with a record number of 315 million people signing up to the platform during the first quarter of 2020. Likely due to the Covid-19 pandemic, the Gen-Z favourite rose quickly in popularity to become the no.1 downloaded app last year.
Although most of us won't want to admit it, TikTok is also pretty addictive, with studies finding that most social media users will open TikTok 13 times in just 24 hours, according to Bloomberg. With its super re-watchable, easily digestible content – which focuses on 'bitesize' video clips, trending audio and popular hashtags – the attraction of the short-form video platform is understandable. Notably, it's become an incredibly useful platform for the beauty community: from generating hype around beauty trends like #TeamNoSleep to educational tutorials on hair plopping, TikTok is buzzing with hyper-consumable content for skincare, haircare and make-up addicts everywhere — and it's changing the way we buy beauty, too.
'As beauty sales are increasingly informed by peer-to-peer networks, TikTok is the perfect platform for brands to connect with consumers in an authentic way,' says Abi Buller, foresight writer at trend agency The Future Laboratory. 'Shoppers have been looking to platforms like TikTok for inspiration, advice and entertainment, especially during the pandemic, when beauty counters and make-up artists have been unable to operate as usual.'
This significant shift in beauty commerce has been backed up by official studies commissioned by the social media giant themselves: 52% of users now say they discover new products on TikTok. Got a few seconds to spare? Yep, us too — and with TikTok, a simple 15-second mascara review can lead to sell-out status overnight. Just ask Maybelline. In March, their newly-launched Lash Sensational Sky High mascara took the platform by storm. It's easy to see why it went viral: all it takes is a few swipes of the brush, visibly longer looking lashes and an 'oh, wow!' from virtually any TikTokker to have you clicking that checkout button.
Maybelline's viral mascara isn't the only product to see overnight success. After receiving rave reviews from TikTok's acne-positive teen community, Deciem's The Ordinary saw a staggering 426% sales spike of its AHA 30% + BHA 2% Peeling Solution. Thanks to TikTok, there's now no need to scroll through endless website reviews or articles to find a product that actually works, because you've got all the proof you need on your 'for you page'. And if that's not enough, you'll find hundreds more reviews in the hashtags – #skyhighmascara alone currently has an eye-watering 200.2 million views (and counting), with #theordinaryskincare going strong at 142.6 million.
The real beauty of TikTok? Absolutely anyone (or any product) has the chance to go viral due to their unique algorithm, which rewards creative content. In an edge over Instagram, challenges and trending audios on TikTok can be used by brands and influencers to get their content noticed by a wider community. 'The magic of TikTok is that it pushes content to users regardless of following,' says beauty content creator Lesley Buckle, aka @freshlengths. 'There's something really special in TikTok levelling the playing field — I find it fascinating that smaller brands like CeraVe have sold out because of their popularity on a platform like TikTok.'
This content is imported from TikTok. You may be able to find the same content in another format, or you may be able to find more information, at their web site.
On the back of CeraVe's success, beauty retailers across the globe are jumping at the chance to get their products in the spotlight: out of an index of 143 of the world's top global beauty brands, 15% now have an official TikTok account — up from just 5% in October 2019, according to Glossy.
Like CeraVe, multi-brand beauty retailer LOOKFANTASTIC has already had viral shopping success stories. 'Right now, we see TikTok as a key part of our social strategy,' explains Phoebe Russell, the company's global head of social. 'The best strategy for growth is to curate content that the TikTok community really wants to see and that the Gen-Z audience can relate to. We actually have a dedicated TikTok specialist in our social media team who regularly creates content for our feed.'
And with good reason — LOOKFANTASTIC's recent viral TikTok featuring their Caudalie Instant Detox Mask gained incredible traction, reaching over 2.3 million views (unsurprisingly, it's currently out of stock on both LOOKFANTASTIC and Caudalie's sites). Since the post went live, it has been engaged with and duetted with by some of the most influential beauty gurus on the app, including @Glamzilla (562.5k followers) and @SkincareByHyram (6.8 million followers), driving an influx of engagement across their socials.
As well as elevating how beauty brands can market their products online, TikTok also allows beauty influencers to connect with their followers (and potential shoppers) on a level that's currently unmatched by Instagram and Facebook. With TikTok, you consume content by browsing your FYO ('For Your Page') or a hashtag: as you swipe, influencers and content creators will talk directly to you, as if you're close friends who have swapped skincare secrets for years.
'Influencers are test driving the products as "real" people to enable consumers to make intelligent purchases,' explains founder of the critically-acclaimed blog In The Frow, Victoria Magrath. 'My audience are keen to see the application of a product, to know how it feels, how it lasts, all before purchasing – which is something a billboard is unable to offer.' The result? A social media platform with unique potential to be the most authentic influencer marketing app on the market.
This content is imported from TikTok. You may be able to find the same content in another format, or you may be able to find more information, at their web site.
With 1.1 million followers on her Instagram platform and a doctorate in fashion marketing, Magrath is no stranger to the ever-evolving status of social media marketing. Now, using both Instagram and TikTok as part of her social media strategy, she notably sold out Urban Decay's vegan Wild West Palette in just 24 hours by posting one video to both platforms.
But, while TikTok may appear to be the beauty industry's new golden child, there's still potential for the app to boost its beauty sales more by integrating further shopping capabilities. 'At present, TikTok isn't as well equipped as platforms such as Instagram and YouTube in regards to monetisation,' says Magrath, who maintains an impressive following across all three social platforms. 'Tiktok currently doesn't allow the placement of direct affiliate links on your commercial campaigns, which can make it difficult to track direct to consumer sales. Right now, the only way to monetise or sell placed products via TikTok would be to point the viewer in the direction of the product's POS (point of sale), by verbally or visually promoting the brand/product.'
There's still plenty of room for growth for TikTok: after all, the short-video app is only four-years-old, compared to Instagram's 10-years. With its resounding success as a beauty marketing tool during the pandemic though, things are likely to move fast — TikTok have already teamed up with Shopify to allow its vendors to sell directly on the platform through shoppable video ads, marking a shift to scaling commerce capabilities worldwide. So, if the viral interest in the growing social media platform continues to rise, even after lockdown, that all-important 'swipe up to shop' button may be closer than we think…
Like this article? Sign up to our newsletter to get more articles like this delivered straight to your inbox.
In need of more inspiration, thoughtful journalism and at-home beauty tips? Subscribe to ELLE's print magazine today! SUBSCRIBE HERE