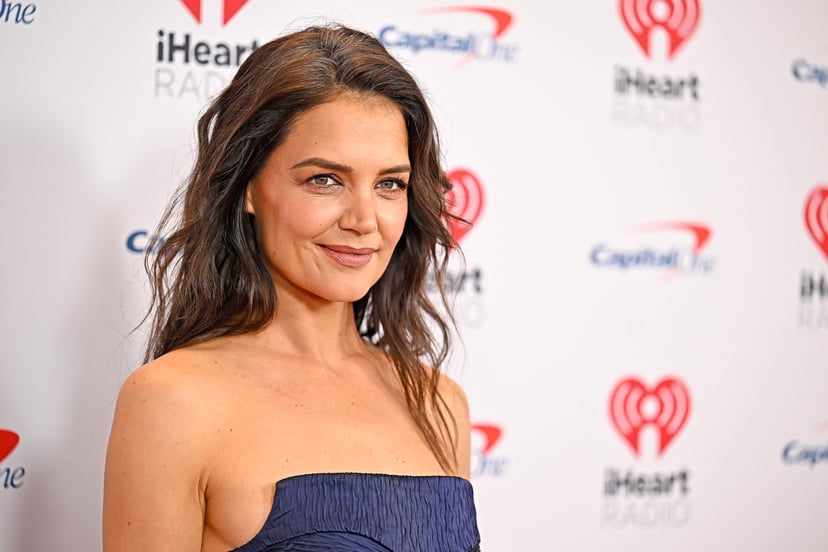 Katie Holmes Revisits Controversial Dress-Over-Pants Trend
Katie Holmes isn't afraid of a fashion throwback, and she really proved that with her latest outfit. While attending the iHeartRadio Jingle Ball on Dec. 9, the 43-year-old actor resurrected the dress-over-pants trend from the early 2000s, stirring up quite the conversation online in the process.
Holmes's nostalgic Y2K look included a strapless, navy blue-minidress from Tove layered over medium-wash boot-cut jeans. She paired the outfit with black New Balance sneakers, fully embracing the playful nonchalance of the era. Holmes looked plenty confident on the red carpet, but the look was polarizing and received a range of reactions after being shared by prominent fashion page Diet Prada, where it amassed nearly 2,000 comments.
"No we cannot bring back the dress jeans combo," one user wrote. Another comment read, "Did she think it was a zoom event?" On the other hand, many applauded the staple combo from the early aughts. "Honestly, I kinda like it," one person wrote. "This is brilliant, she captured the true essence of Y2K," another commented.
Whether you think her latest look was a hit or miss, Holmes probably won't be forfeiting her stylish reputation any time soon. Keep scrolling for a closer look at the outfit in question.